In this blog, we will provide you a detailed list of the top FMCG companies in India. But before that, let us know what FMCG means.
What is FMCG
The full form of FMCG is Fast-moving consumer goods. FMCG are products that sell quickly at a relatively low cost. These goods are also called consumer packaged goods. Household items, medicines, food, personal care items, and stationery, and consumer electronics are some of the examples of FMCG goods.
FMCG products are essential goods very fast to be acquired, are produced high in volume but at a relatively low cost having a relatively low shelf life
FMCG (Fast Moving Consumer Goods) is the reason for India's rapidly growing demands for goods and services that are needed for an individual on a daily basis. The enormous majority of the population depends on FMCG stocks to satisfy their essential needs.
The best FMCG companies operate across the country through a wide distribution network to dispense their goods.

Top FMCG companies in India
Here is the list of Top FMCG companies in India.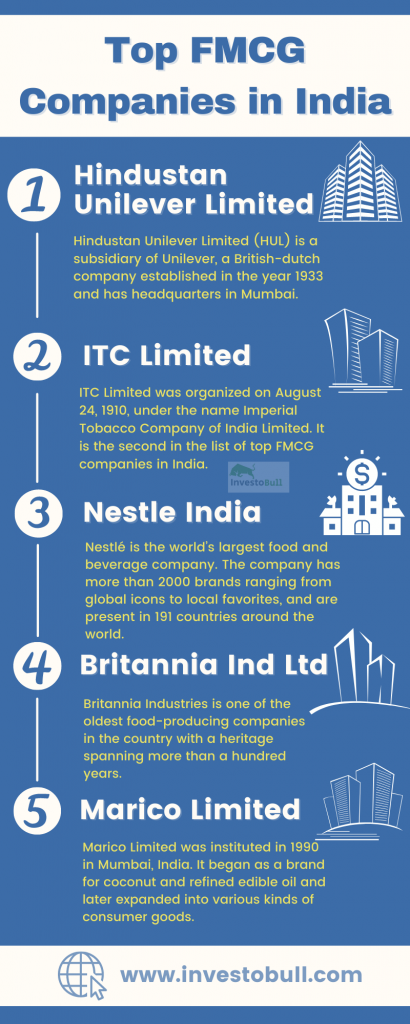 Hindustan Unilever Limited (HUL)
Hindustan Unilever Limited (HUL) is a subsidiary of Unilever, a British-dutch company established in the year 1933 and has headquarters in Mumbai. HUL has served over 2 billion customers for over 87 years. HUL is one of the best company in India.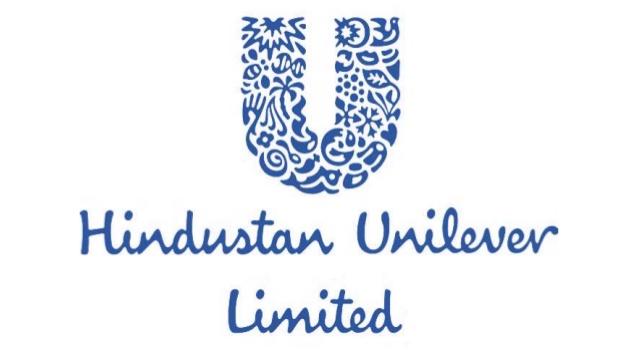 Nine out of ten Indian families utilize one or more of Hindustan Unilever Limited Brands. HUL has a portfolio of brands that serve consumers across India like Home Care, Beauty & Personal Care and Foods and Refreshment.
With 35 brands across 20 categories including Fabric Wash, Household Care, Purifiers, Personal Wash, Skin Care, Hair Care, Colour Cosmetics, Oral Care, Deodorants, Beverages, Ice Cream & Frozen Desserts and Foods, the Company is part of the daily life of millions of consumers.
HUL portfolio includes leading brands such as Surf Excel, Rin, Wheel, Sunlight, Vim, Lux, Lifebuoy, Dove, Fair & Lovely, Pond's, Vaseline, Clinic Plus, Sunsilk, Lakmé, Pepsodent, Closeup, Axe, Bru, Knorr, Kissan, etc.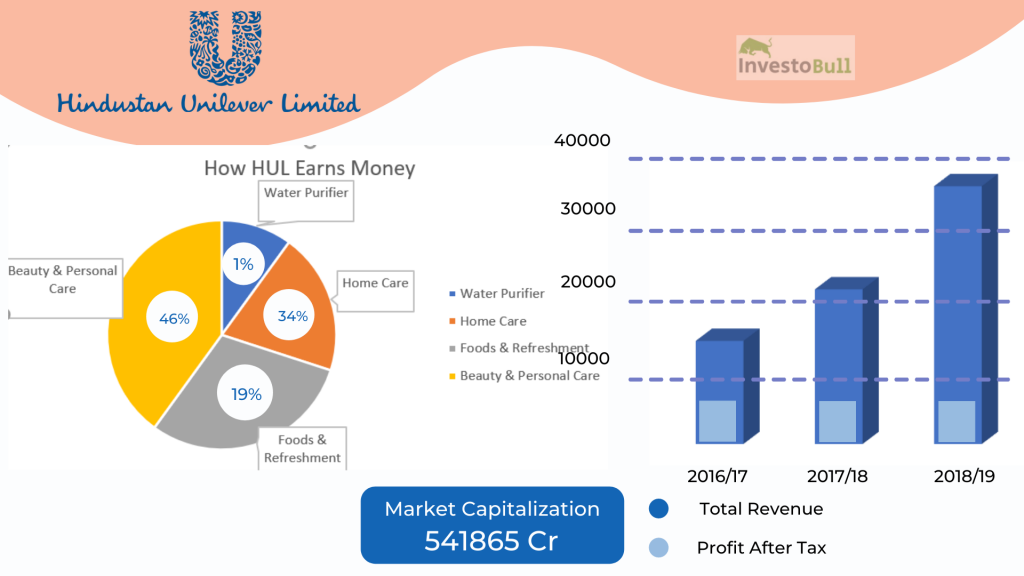 Below Data as of 23rd May 2022
Corporate Office: Mumbai, Maharashtra
Market Cap:  Rs 559,264 Cr
Stock Price: Rs 2,380
Dividend Yield: 1.59 %
Return On Equity: 18.4 %
ROCE: 24.6 %
P/E Ratio: 62.8 %
ITC Limited
ITC Limited was organized on August 24, 1910, under the name Imperial Tobacco Company of India Limited. It is the second in the list of top FMCG companies in India.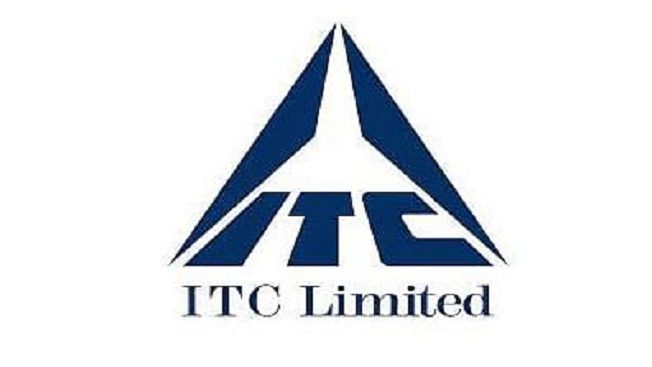 The company's name was changed to India Tobacco Company Limited in the year 1970 and then to I.T.C. Limited in 1974 and the full stops in the Company's name were removed on September 18, 2001. ITC is one of the biggest company in India.
ITC Limited supplied goods including soaps, incense sticks, apparel, cigarettes and cigars, safety matches, and food.
ITC products list is Bingo, Sunfeast, Aashirvaad, Fiama Di Wills, Vivel, Savlon soaps and hand wash, Papercraft, and Classmate.
ITC sells 81% of the tobacco products in Asia including brands like Wills Navy Cut, Gold Flake Kings, Silk Cut, India Kings, Bristol, Gold Flake Super Star, Gold Flake Premium Lights, Classic Menthol, etc.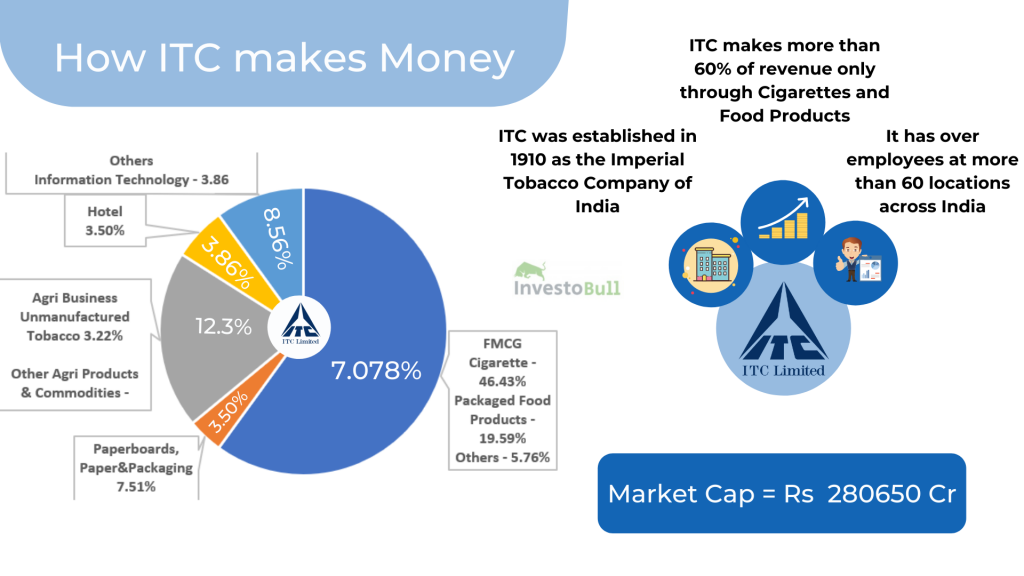 Below Data as of 23rd May 2022
Corporate Office: Kolkata, West Bengal
Market Cap:  338,334 Cr
Stock Price: Rs 274
Return On Equity: 24.8 %
Dividend Yield: 4.19 %
P/E Ratio: 22.2
ROCE: 33.7 %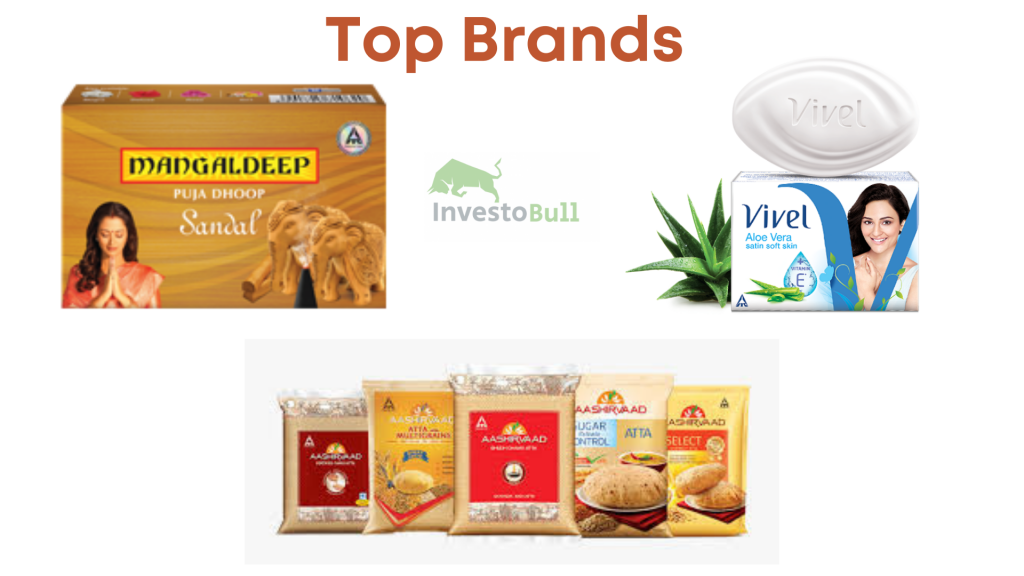 Nestle India
Nestlé is the world's largest food and beverage company. The company has more than 2000 brands ranging from global icons to local favorites, and are present in 191 countries around the world.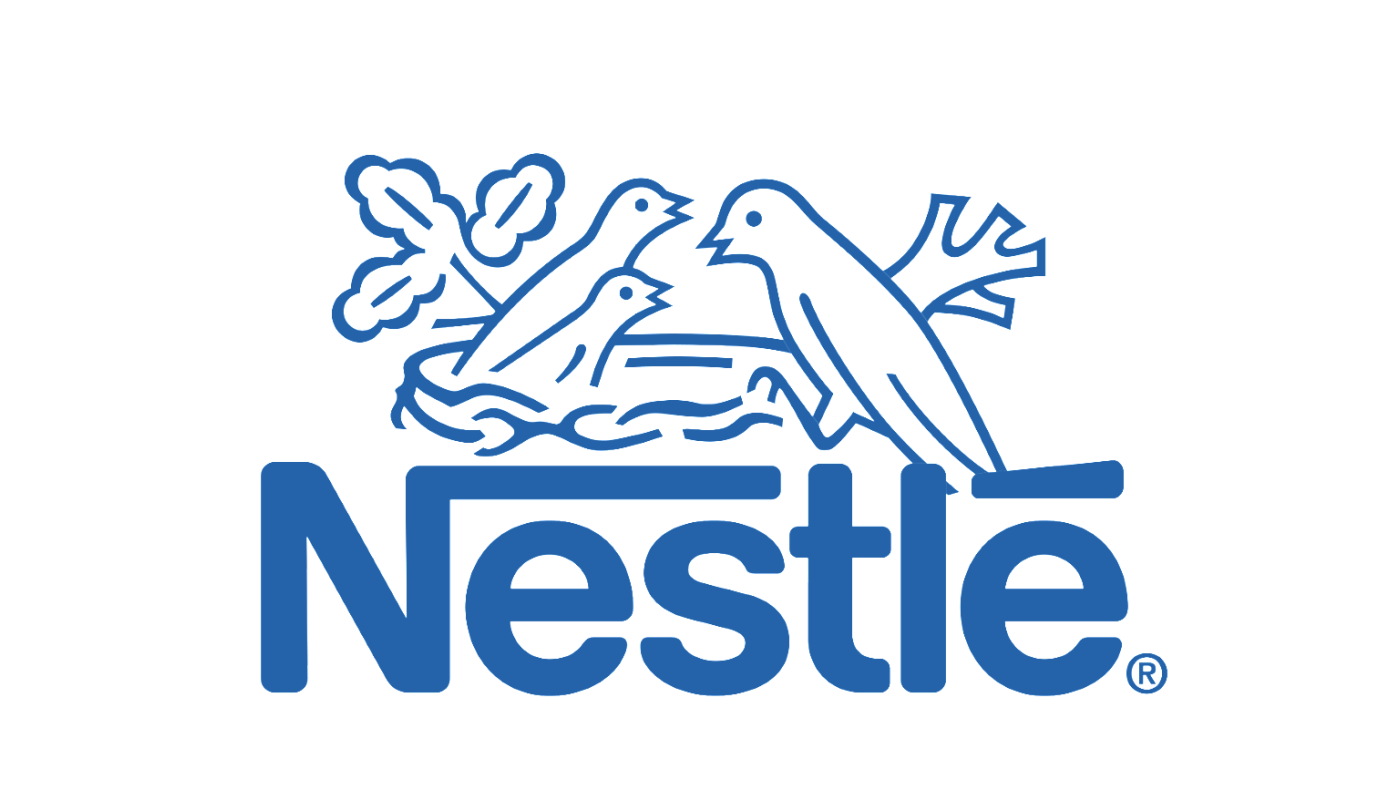 Nestlé India has a presence across India with 8 manufacturing facilities and 4 branch offices. It is the third Largest in Top FMCG Companies in India
Nestle products has a wide range of categories, such as milk products, drinks, baby foods, chocolates, and candy making includes a few brands such as Nescafe, Maggi, Milky Bar, Kit Kat, Bar One, Milkmaid, Nestea, etc.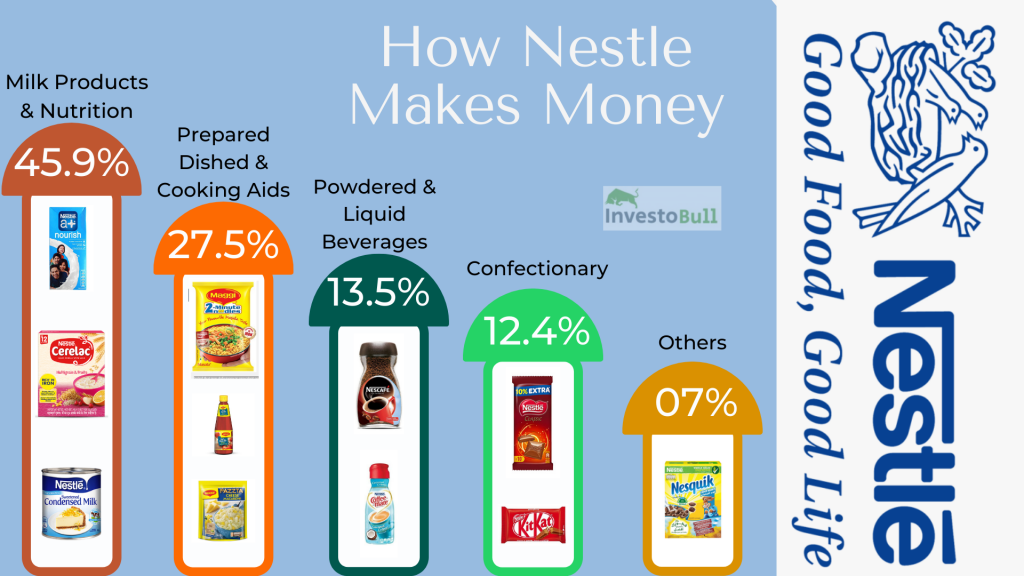 Below Data as of 23rd May 2022
Corporate Office: Vevey, Switzerland
Market Cap:  163,834 Cr
Stock Price: Rs 16,994
Return On Equity: 113 %
Dividend Yield: 1.18 %
ROCE: 147 %
P/E Ratio: 70.7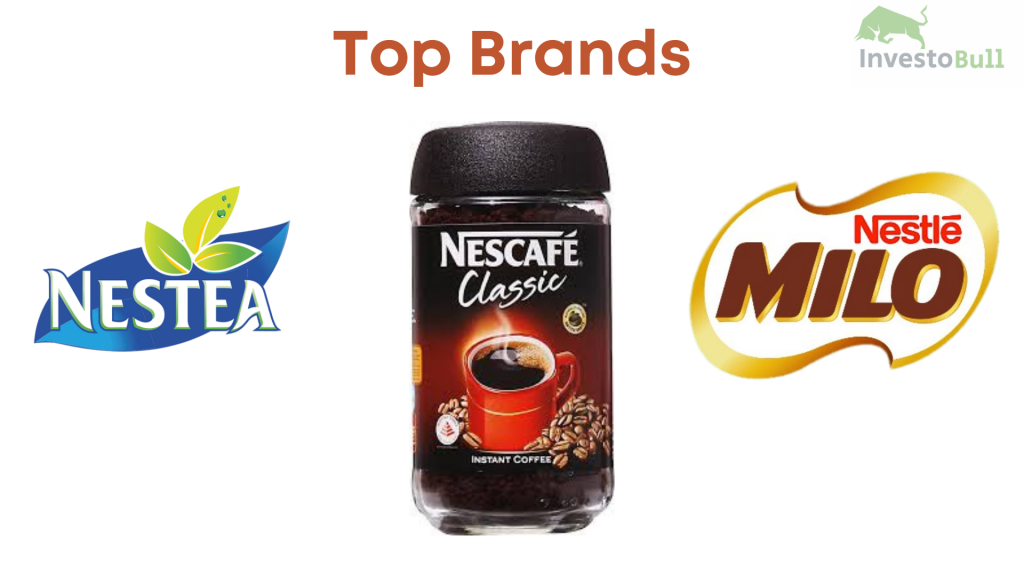 Britannia Industries
Britannia Industries is one of the oldest food-producing companies in the country with a heritage spanning more than a hundred years. Their products are available in more than five million retail outlets and more than 50% of Indian homes are proud users of their range of food items.
The company's Dairy business contributes close to 5% of revenue and Britannia dairy products directly reach 100,000 outlets.
Britannia manufactures brands like Good Day, Tiger, NutriChoice, Milk Bikis and Marie Gold which are household names in India.
Britannia's product portfolio includes Biscuits, Bread, Cakes, Rusk, and Dairy products including Cheese, Beverages, Milk, and Yoghurt.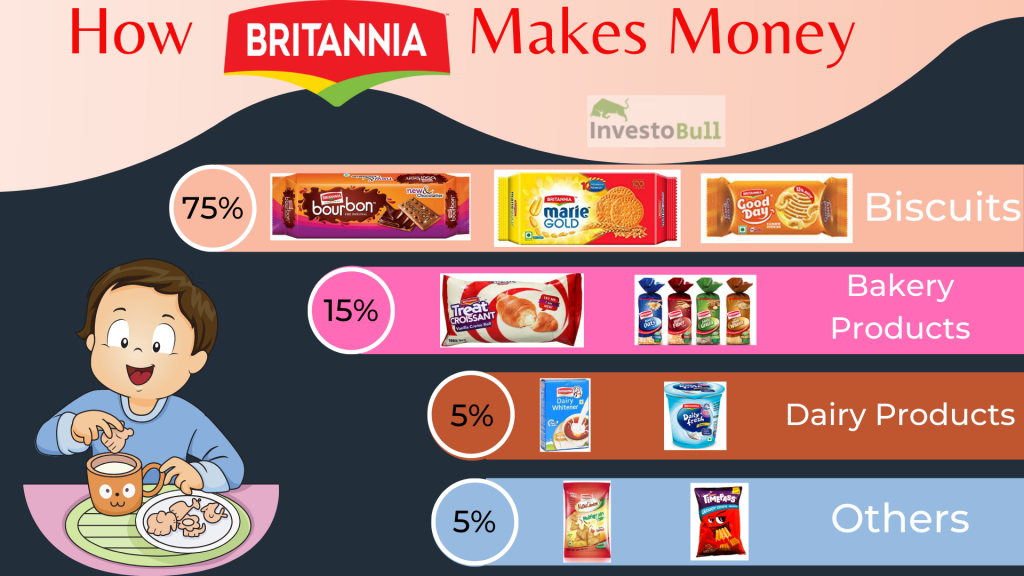 Below Data as of 23rd May 2022
Corporate Office: Kolkata, WB
Market Cap:  84,015 Cr
Stock Price: Rs 3,487
Return On Equity: 49.7 %
Dividend Yield: 1.62 %
ROCE: 41.6 %
P/E Ratio: 55.4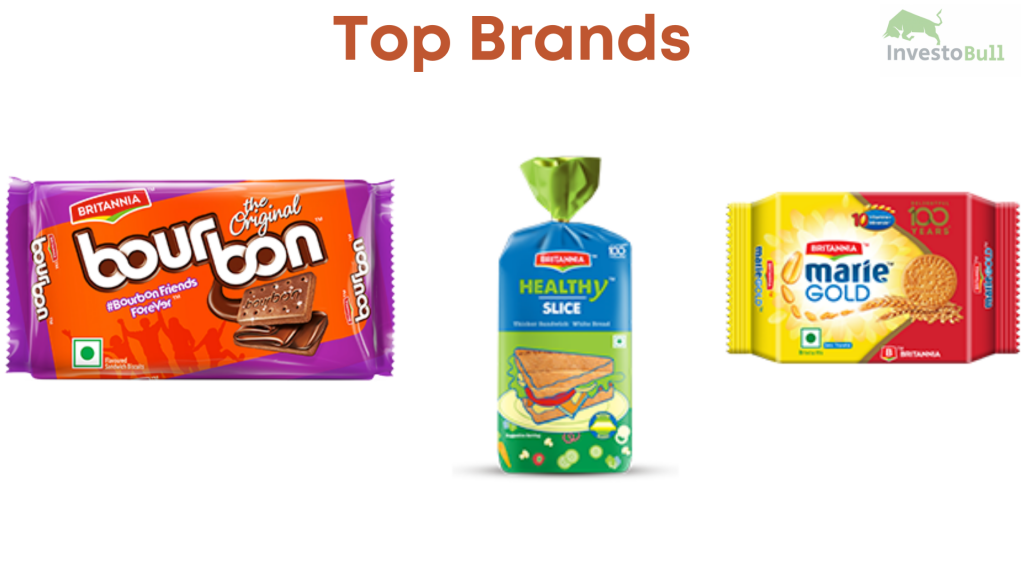 Marico Limited
Marico Limited was instituted in 1990 in Mumbai, India. It began as a brand for coconut and refined edible oil and later expanded into various kinds of consumer goods. It is currently operating in 25 countries of Asia and Africa continents.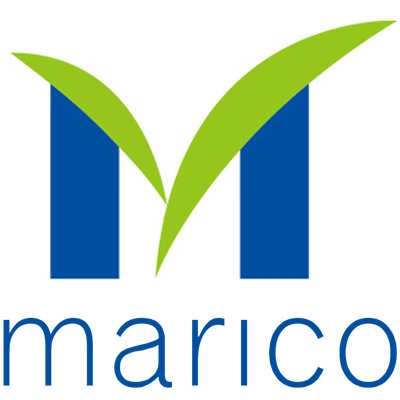 Marico Limited is one of Top Indian companies in the beauty and wellness sector. It has established itself as a leading consumer goods company with a product portfolio across Haircare, Skincare, Edible oils, healthy foods, Male Grooming and fabric care. Brands such as Parachute, saffola, Hair & Care, Nihar Naturals, true roots, Livon, Set Wet, Coco Soul, kaya Youth.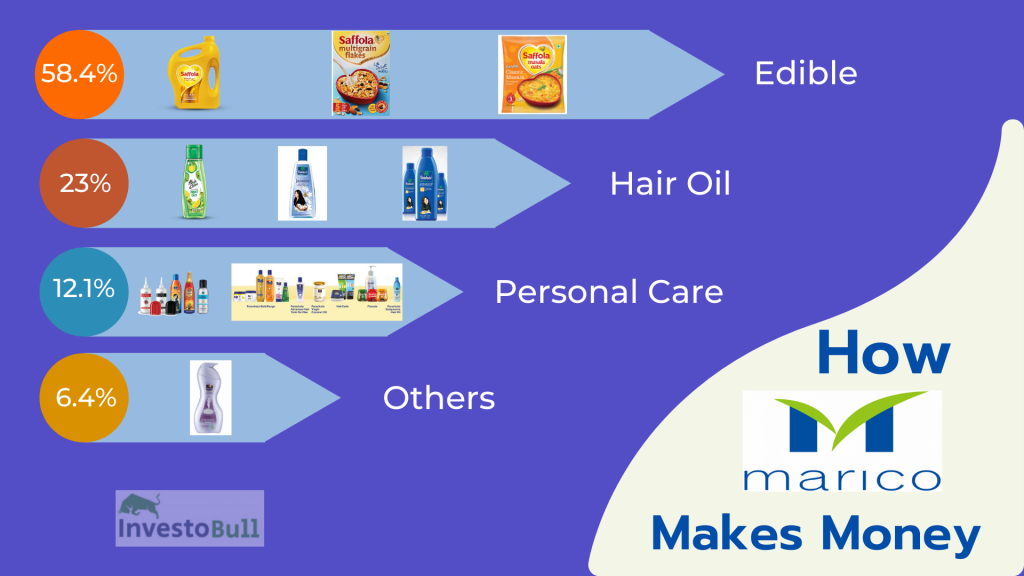 Below Data as of 23rd May 2022
Corporate Office: Bandra, Maharashtra
Market Cap: 68,757 Cr.
Stock Price: Rs 532
Return On Equity: 37.0 %
ROCE: 44.5 %
P/E Ratio: 56.1
Dividend Yield: 1.74 %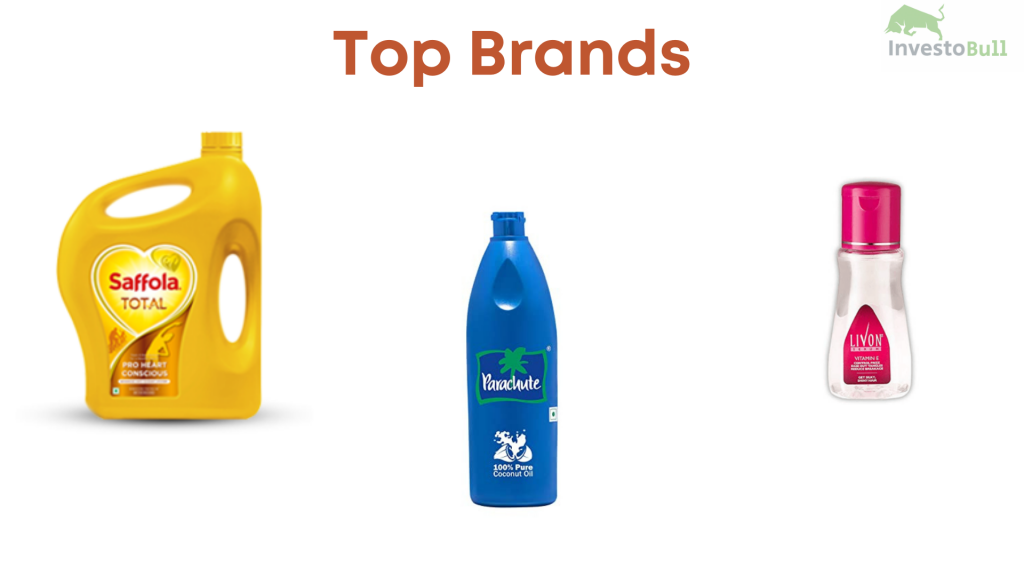 Conclusion
The companies listed in this post are in the top FMCGs due to their high standards of manufacturing, product quality, packaging, and innovation. These companies have created a place for themselves in highly competitive markets due to their extraordinary products and a tradition of keeping consumers and households satisfied.
FAQs – Top FMCG Companies in India
What is the biggest FMCG company?
How do FMCG companies work?
In the FMCG industry, manufacturers often sell the goods to wholesalers, who sell it to the retailers, who in turn sell it to the consumers
How big is the FMCG market?
India's FMCG market was valued at 52.75 billion U.S. dollars in 2018. This was expected to increase to 220 billion dollars by 2025. One of the reasons for the increasing market size over the years was the growth in rural consumption across the country.
Recommended Brokers
No 1 STOCKBROKER IN INDIA
Zerodha
Free equity & mutual fund investments | Flat ₹20 intraday and F&O trades
Rating
★★★★★
APPLY NOW
GET FREE DEMAT ACCOUNT
Upstox
Fix brokerage of Rs. 20 per trade
Rating
★★★★
APPLY NOW
GET FREE DEMAT ACCOUNT
Angel Broking
0 Brokerage on Equity Delivery | Rs 20 per order for Intraday‎ and F&O trades
Rating
★★★★★
APPLY NOW