What is SIP or Systematic Investment Plan?
Systematic Investment Plan (SIP) is an investment strategy where a small amount of cash is contributed on a pre-set date each month into a specific mutual fund or many funds. In this article, we will discuss What is SIP or Systematic Investment Plan?
Perhaps the ideal method for entering the equity market is through Systematic Investment Plans (SIPs) in equity mutual funds, as it gets an investment discipline for the investor.
SIP helps to accomplish monetary objectives by contributing little some money on a month to month premise that in the end, prompts gathering the required corpus for reaching the goal.
A Systematic Investment Plan is one of the best and safest routes an investor can take in Stock Markets while investing in mutual funds. These sorts of plans are generally offered by Mutual Fund companies for small investors to begin their stock market investment.
The SIP investment plans help investors to spare routinely and get the advantage of the two phases of the market i.e., Bull and Bear.
Let's take an example to understand how SIP works. For example, we purchase 1kg of Onion every 3 days. In 30 days, we will have 10kg of Onion at an average price. The price may be different every 3rd day, sometimes 20rs, sometimes 30rs, etc.
However, after 30 days, we get an average price, which takes into low account prices as well as high prices. The same is with the SIP mutual fund. We know that the cost of 1 unit of a mutual fund is called NAV.
When we buy a SIP mutual fund route for a long time, we get an average price which automatically takes care of low prices as well as high rates ( good and bad phases of the stock market)

How long should you invest in SIP?
Though SIP does not have any time limit like you have to invest for some minimum time, It's always recommended to have SIP as long as possible to take real advantage of SIP.
If your Systematic investment plan duration is 5 years and above, SIP can be very useful. The reason is that over a longer time period, we will have good phases of markets as well as bad phases.
The systematic investment plan will average out the price when in bad phases to bring down the average price lower.
What about returns from a SIP?
Returns from the systematic investment plans have been proved to beat Recurring deposit and fixed deposit returns when considered over five to seven years.
If we manage to book profits when markets are near highs, these returns will only improve further.
However, remember, unlike recurring deposits and fixed deposits, the investments in systematic investment plans in stocks or mutual funds tend to increase or decrease in value according to market conditions.
Hence it's advisable to put only excess money in stock markets, which you are not going to use for the next 5-6 years or you need in the short term.
Advantages Of SIP in Mutual Funds :
Very easy for beginners or people with no knowledge of markets
SIP mutual funds is probably the easiest and safest way to stock market investment. Mutual funds are managed by experienced fund managers who manage funds on your behalf—the power of compounding. Small amounts, when invested through a systematic investment plan, results in the power of compounding.
Flexibility In Paying Installments
With SIP, one has the opportunity to pay a pre-chosen amount of money as indicated by his comfort, i.e., regardless of whether you miss paying an installment, no one will come after you with a legal notice.
You need to maintain your SIP investment for the long term to make good returns in the future. But it is not mandatory. You have an option to stop your investment plan during the cycle. An investor can increase or decrease his investment fund at any time.
Highly Liquid
Whenever put resources into open-ended mutual funds, an investor can stop or end the investment at any time if there should be an occurrence of a financial crisis. Nonetheless, investments bear fruits if done for the long term.
How to Invest in SIP Mutual Funds
To set-up the best SIP (Systematic Investment Plan) with extraordinary returns for yourself, it would be ideal if you follow the steps below:
Figure out your goal/plan
What is the motivation behind your investment? To develop your wealth or to secure it? Or, on the other hand, to utilize it towards a particular consumption in a couple of years? Whatever we do in our life, the objective/reason/target should be very much the
Set a target amount
Fix a goal. For example, a goal to purchase a vehicle worth Rs. 10 lakhs!
Set the time horizon
To accomplish the above goal. In how long would you like to possess that vehicle, 5 years? This is the timeframe for which your investment for this specific objective should be finished.
Further, remember one thing: equity investment to be as long as possible. Presently, to comprehend that long haul, take a gander at the previous 18 years information, in any 10 years time span (rolling), the most exceedingly awful presentation of Sensex is 8%, which is considerably higher than the normal post-tax forms on Fixed Income. If it's not too much trouble, note once more, this was the most pessimistic scenario.
Evaluate your risk profile
To check your very own risk-taking limit, else you will be either going out on a limb (higher presentation to financial exchange/equity mutual funds) or excessively less (higher introduction to fixed pay like fixed deposits, debt Mutual Funds, gift plans, etc). For example, a regular moderate risk profile portfolio would have 60% in equity and 40% debt.
Resource Allocation
Decide on the amount of money that should be put into every equity (Asset type – risky, however better yields) and fixed salary/debt(Asset type-safe yet lesser returns), in view of your risk-taking limit and time horizon, to accomplish the objective. For shorter time horizons, invest more in debt. For a longer time horizon, put more in equity. In any case, don't surpass your risk resilience at the same time.

Find a platform to invest in mutual funds through SIP
SIP mutual fund is an easy way to start your financial planning. Here is the list of online platforms to start your investment in Direct Mutual funds
We have many platforms to invest but Zerodha is preferable because it is free. Open Demat Account and Start investing in direct mutual funds
HOW TO START SIP IN ZERODHA
If you are a new client, You can follow the below process to start the SIP in Zerodha
Step 1:
Login to coin.zerodha.com. If you dont have Zerodha account, you can click here to open one for you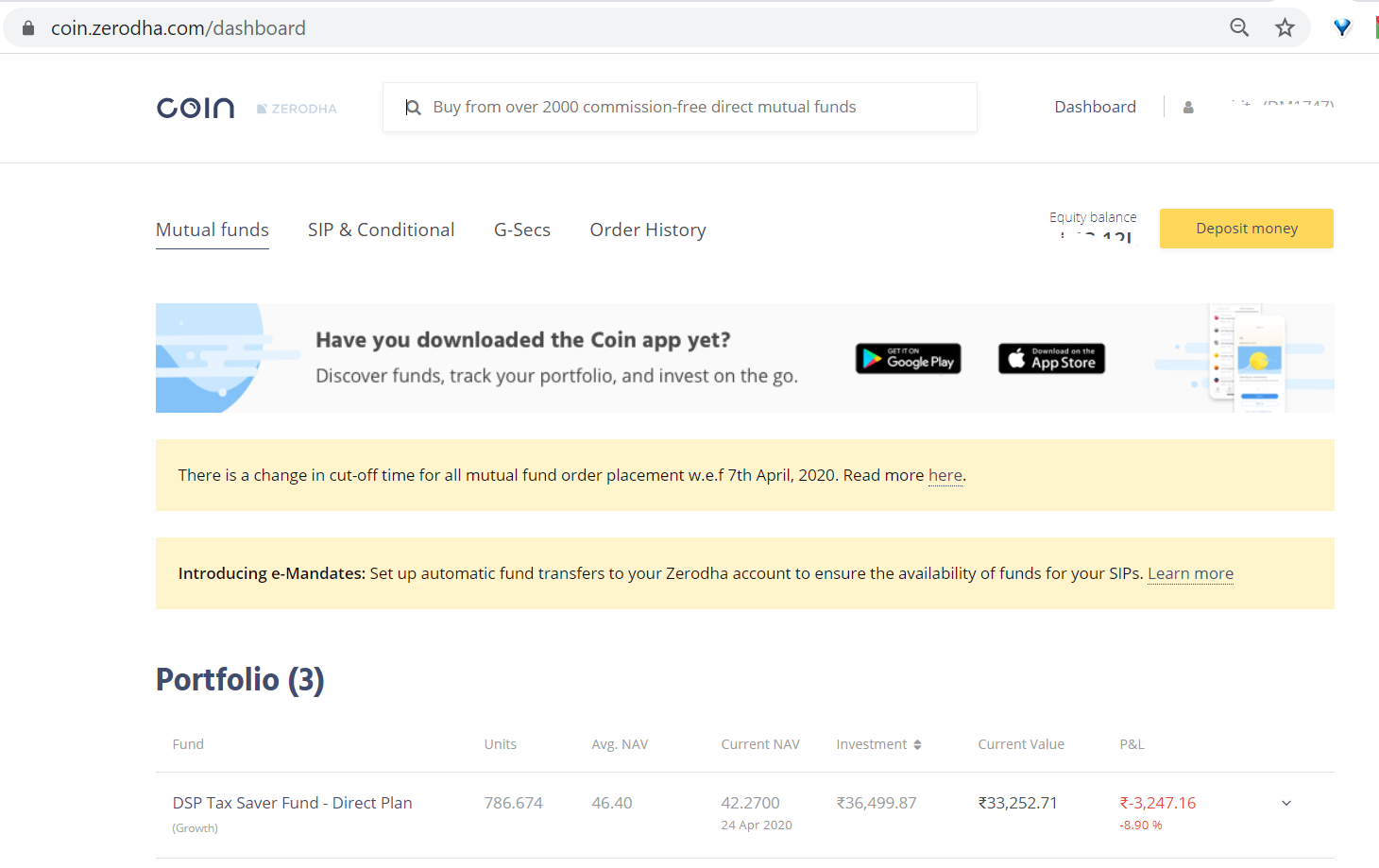 Step 2:
Select the best Mutual fund plans according to your goal by searching in search bar above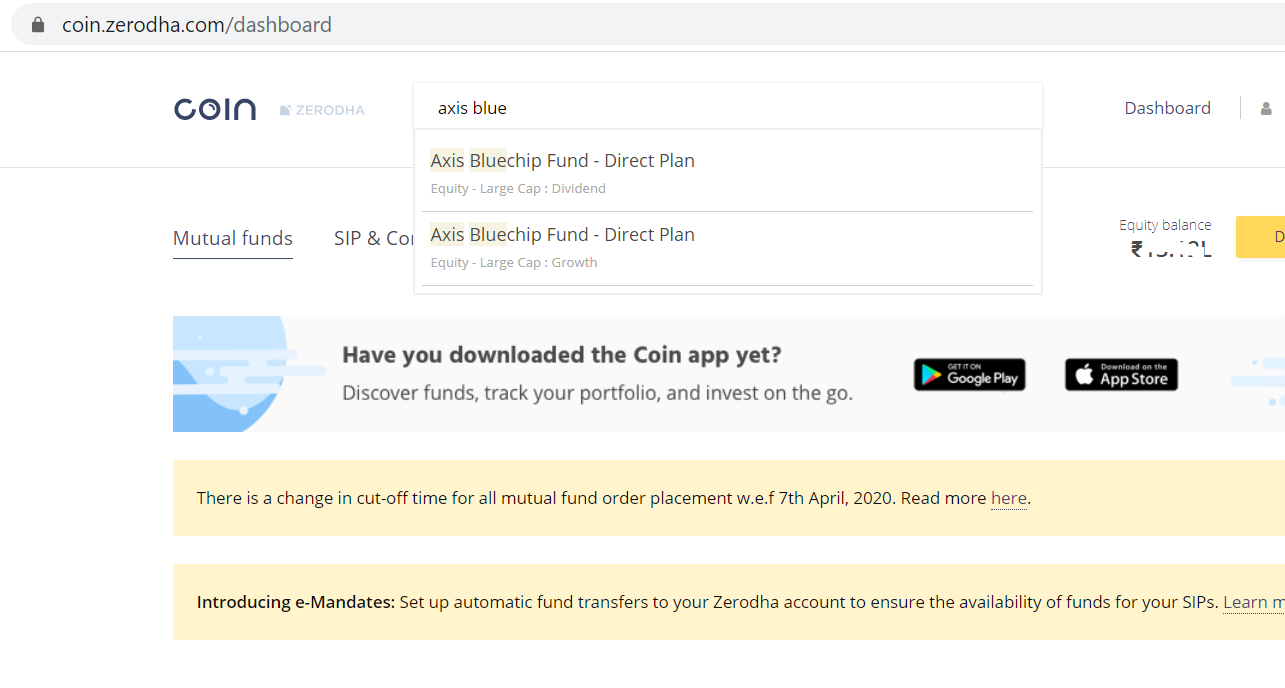 Step 3
Click on Mutual fund you want to start SIP in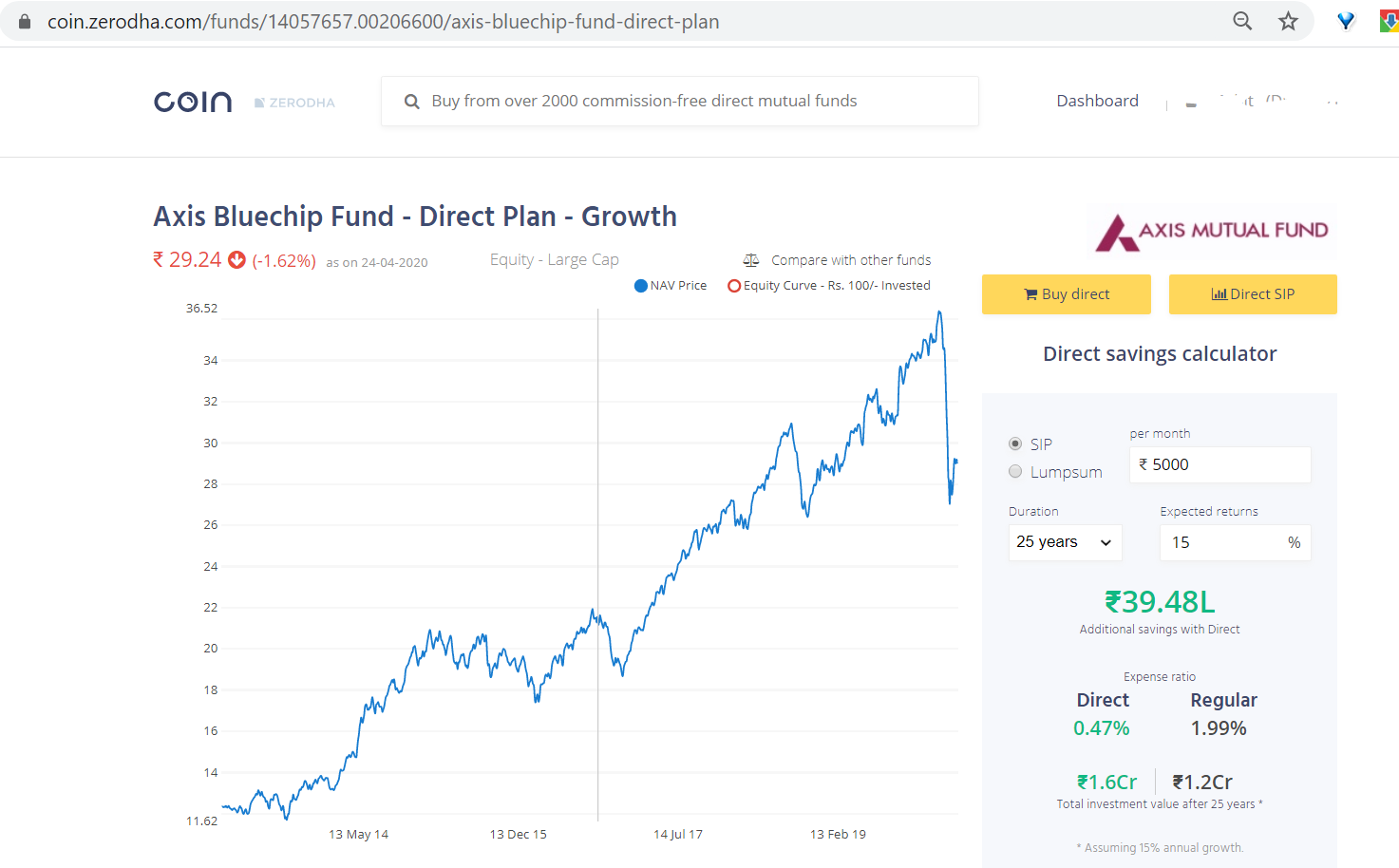 Step 4:
For Lumpsum investment, you can select "Buy Direct" and enter the amount you want to purchase Lump sum investment for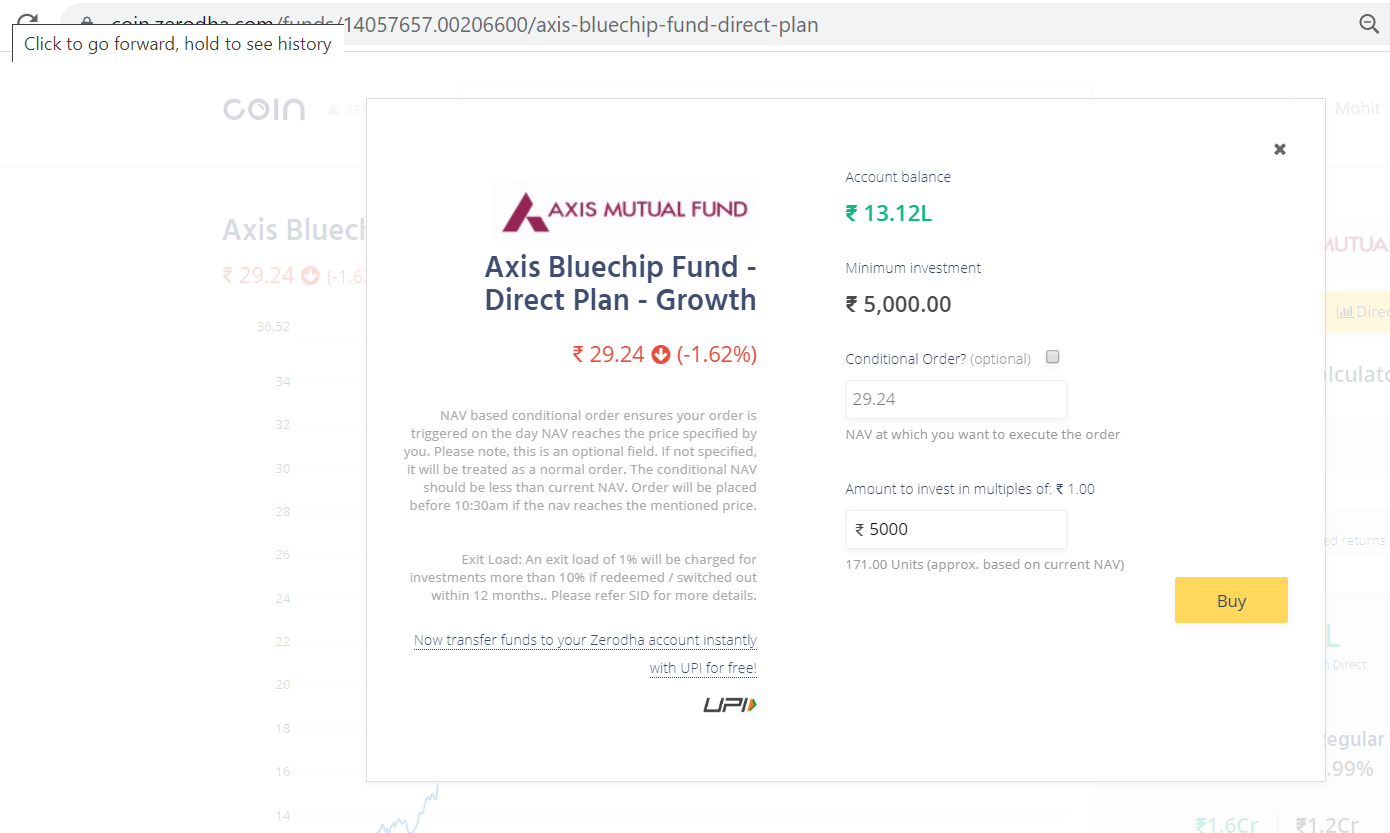 Step 5:
For SIP, click on DIRECT SIP and you can select SIP amount, no of installments and frequency of each installment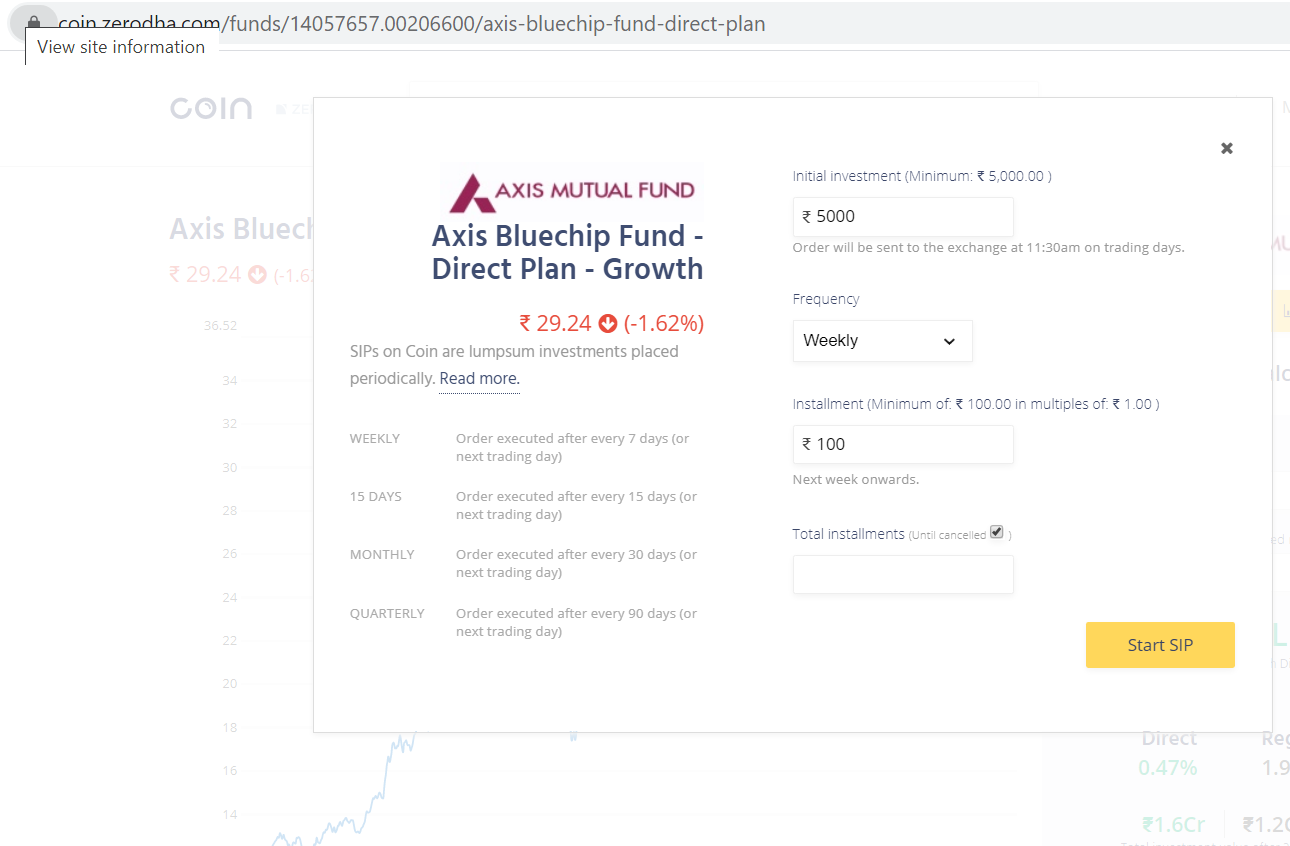 Thats it, its so simple! You need to make sure that your trading account has sufficient money so that your SIP amount is processed successfully. You will receive email on the success or failure of SIP installments.
Recommended Brokers
No 1 STOCKBROKER IN INDIA
Zerodha
Free equity & mutual fund investments | Flat ₹20 intraday and F&O trades
Rating
★★★★★
APPLY NOW
GET FREE DEMAT ACCOUNT
Upstox
Fix brokerage of Rs. 20 per trade
Rating
★★★★
APPLY NOW
GET FREE DEMAT ACCOUNT
Angel Broking
0 Brokerage on Equity Delivery | Rs 20 per order for Intraday‎ and F&O trades
Rating
★★★★★
APPLY NOW