Before you start Investing or trading in stock markets , you need to have a trading and demat account . In this article , we will help you understand what is demat account , What is trading account and where to open your first demat account.
WHAT IS A DEMAT ACCOUNT?
Demat account stands for a Dematerialized account. It is like a wallet which holds the shares that you have purchase in electronic format. It makes the entire process of share trading secure and speedy.
Earlier, Investing in equity shares was done in physical form. When you bought shares, a share certificate was issued which was a proof for ownership. There was a lot of paperwork and also the risk of getting fake shares. To overcome these problems, a Demat account was created.
Having a demat account lets you buy shares and store them safely. It is similar to a bank account in which you hold deposits with the bank and the record of debit/credit balance are maintained in a bank passbook.
When you purchase or sell shares, it will be credited or debited to/from your demat account respectively. It can be used to hold a variety of investments like equity shares, exchange-traded funds, mutual funds, bonds, and government securities. You can open demat account without possessing any shares and can maintain a zero balance in your account.

WHAT IS TRADING ACCOUNT?
Trading account is opened along with a demat account and is also linked with your Bank account. You have to add money to your trading account from your bank account which is used for buying and selling shares, futures, options, ETF's. Once you buy the Shares, it will take 2 days for stocks to come into your demat account linked to your trading account.
The below image clearly explains the relationship between all these accounts.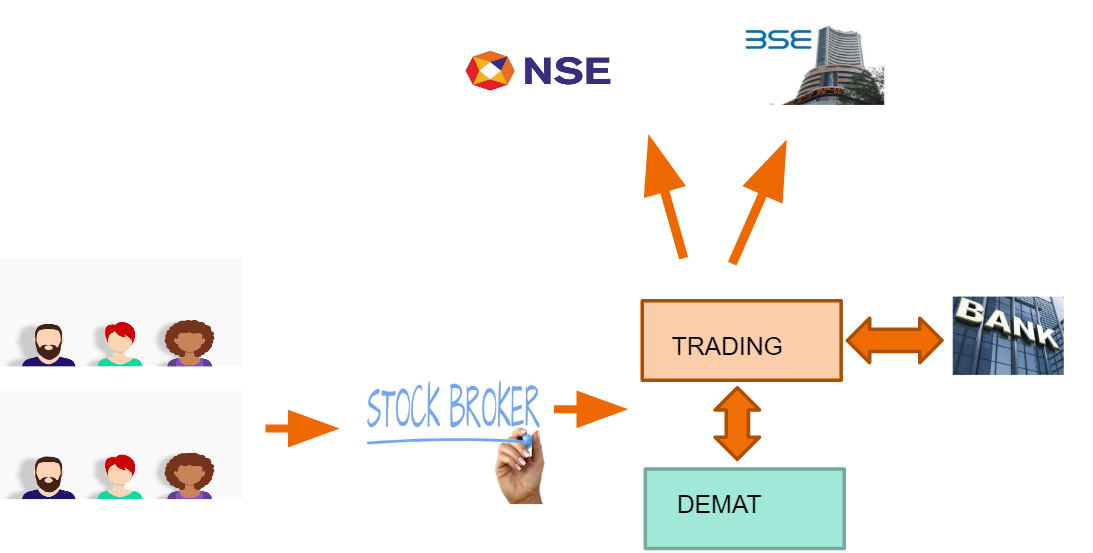 HOW TO OPEN DEMAT ACCOUNT?
Once you have decided to open Demat account Online , you need to decide on whether you want to open account with full service broker or Discount broker. There are two types of stockbrokers, which are

Full-service Brokers: Full-service brokers provide trading and demat account along with advisory services. They also assign a relationship manager to you whom you can call for buying and selling shares. However, they charge more brokerage fees due to additional services. Example Icici Direct , HDFC securities

Discount Brokers: Discount brokers are new technology first brokers who provide you with no-frills demat and trading accounts. Their operations are mostly online and they don't offer advisory services. They have very few branches and hence they can provide the lowest brokerage and best technology platforms.

Once you have decided on whether you want to open an account with a full service broker or discount broker, you can visit the website of the respective broker and open site. Most brokers now provide Paperless account opening online using aadhaar kyc if your Aadhaar card is linked to mobile number. We recommend Zerodha as our preferred choice in Demat and trading accounts. Zerodha is India's biggest broker with zero brokerage charges for investing. Zerodha also provides best trading and investing applications. Here is direct link to open Zerodha demat account online
What are the Documents required to open a demat account?
You may perceive a demat account just like a bank account which holds securities instead of money. Here is the detailed list of documents that you need for opening a demat account.

PROOF OF INCOME

You may submit any one of these as a proof of income
A photocopy of the income tax returns(ITR) acknowledgement slip submitted to the Income Tax Department during tax filing.
Certificate of Net Worth or photocopy of the annual statement of accounts authenticated by a Chartered Accountant.
Salary Slip of the current month or Form 16.
A statement of Demat Account holdings with an eligible Depository Participant.
Latest statement of bank account containing the income history of the last 6 months.
PROOF OF IDENTITY
You may submit any one of these as a proof of identity:
PAN card having a valid photograph.
Aadhaar card / Voter ID card / driving license/ Passport
PROOF OF ADDRESS
You may submit any one of these as a proof of address:
Passport/Voters Identity Card/Ration Card/Registered Lease or Sale Agreement of Residence/Driving License/Flat Maintenance bill/Insurance Copy.
Utility bills like landline telephone bill, electricity/gas bill which is not more than 3 months old.
Bank Passbook which is not more than 3 months old.
Self-declaration of a new address given by judges of the High Court and Supreme Court.
Address proof which is issued by bank managers of Scheduled Commercial Banks/Scheduled Co-Operative Bank/Multinational Foreign Banks, Gazetted Officer / Notary public, Member of Legislative Assembly, Member of Parliament.
Where to open a Demat account?
The first step will be to decide a broker where you want to open demat and trading account with. You can find detailed broker comparison here which will help you to select best broker as per your needs.
We recommend Zerodha as our preferred choice in Demat and trading accounts. Zerodha is India's biggest broker with zero brokerage charges for investing .Zerodha also provides best trading and investing applications. Here is direct link to open Zerodha demat account online


If your aadhar card is not linked with mobile number, you can also open demat account offline. For this, you need to download demat and trading account opening forms from the broker where you want to open demat account. Once you fill the account opening form and attach a passport-sized photograph along with photocopies of the required documents stating proof of address and identity, you can courier documents copy along with form to your broker.

After your application has been processed successfully, you will get an account number/client ID and password from the stockbroker. These details are required to access your demat account online.

When you become a demat account holder, you would be required to pay an annual maintenance fee for maintenance of your demat account. Additionally, you would be charged a transaction fee for a conducting buying/ selling transaction via the trading account. In case your shares are in physical form, the DP may charge you a separate fee for dematerialisation of the shares.

You can open a demat account without having any shareholdings. Moreover, there's no mandate to maintain a minimum balance.
What are Benefits of Demat Account?

A demat account is used to transfer shares from the account of one investor to other investors. It can be done by using a delivery instruction slip (DIS) in order to conduct share trading. You can provide all the relevant details in this slip for the smooth execution of a transaction.
The securities held in your demat account can give you access to a variety of loans from the bank. You can pledge these securities as collateral to secure a loan from your bank. Pledging means you are keeping your shares as collateral (like property papers) and you get a loan.
Dematerialization & rematerialization
If you have a demat account, then conversion of the securities into different forms becomes a simple task. You can give necessary instructions to your depository participant(DP) for dematerialization to get the physical shares certificates converted into electronic form. Conversely, you can get the electronic securities converted back to the physical form as per your requirements.
Owing to electronic operation, a Demat Account can be accessed using numerous media. You can manage to invest, monitoring and other security-related operations using the facility of the Internet on a computer, smartphone, or other handheld devices
Having a Demat Account can help you avail the benefits associated with owning securities. Whenever a company provides dividends, interest or refunds to its investors, all the Demat account holders get access to these benefits automatically. Additionally, corporate actions related to equity shares like stock split, right shares or bonus issue is updated in the shareholders' Demat Accounts.