One of the most popular forms of trading If you want to start trading in the stock market, is Intraday trading. It takes months and years to get profits for long-term investors, but in day trading, you can get the profits within the same day.
In this article, you can learn how to do intraday trading for beginners with all the details like What is intraday trading, What Products can be traded intraday, Trading Segments for doing Intraday Trading, Terms Used While Doing Intraday Trading, Intraday Trading Procedure in the Stock Exchange, how to trade in stock market, Intraday Tips. Let's get started.
What is Intraday Trading
Intraday trading is all about buying and selling stocks on the same day. The main objective of intraday trading is to create profits within the same day. If the stocks are not sold by the end of the day, it will automatically square off your position.
If you are interested in intraday trading, you must know the psychology behind rising and falling markets because in intraday trading, the price changes every minute.

Difference between Intraday trading and Short term trading
The difference between intraday trading and short term trading is the ownership of stocks. In Intraday trading, the buying and selling of stocks have to be done on the same day, whereas in short term trading, the buying and selling of stocks range from few days to few weeks.
Difference between Intraday Trading and Regular Trading
The major contrast between day trading and regular trading is the ownership of stocks. Transfer of stocks cannot be possible in intraday trading because you have to square-off your position on the same day.Regular trading means the delivery of shares. In regular trading you can store your stocks in the demat account, you can continue your trading more than one day. Intraday traders should select high liquidity stocks in order to avoid losses and also close their positions before the trading session.
Two ways to make money in Intraday trading – Long buy, Short sell
There are two primary ways in which you can make money day trading stocks- Long buy and Short sell. Lets try to understand what are these
Long Buy
There are two primary ways to make money in intraday trading . You can buy stock first and sell later at high price to make profits. This is called Long buy . This is done when you think stock is going to go up and price is going to increase.
Example: If you buy 100 Reliance shares at Rs 2000rs and sell it at Rs 2020, you can earn a profit of Rs 100*(2020-2000) = 2000rs . In intraday trading, you need to sell your shares before 3.20PM else your stock broker will automatically sell it at market price after cutoff time.
Short Selling
You can also do Short selling in intraday trading . This means that you can sell stocks first (without having stocks ) and then later buyback at low price to make profits. This is usually done when you think prices can go down. In this scenario you sell first at high price then buy back at low price to keep profits.
Example: If you think reliance will do down from 2020rs to 2000 rs , sell 100 Reliance shares at Rs 2020rs and buy it at Rs 2000rs , you can earn a profit of Rs 100*(2020-2000) = 2000rs . Remember you need to buy back shares you sold before cutoff time 3.20PM else your stock broker will automatically buy it at market price after cutoff time.
This shorting situation happened recently when the stock market collapsed due to covid-19. Many traders earned good profits by selling their shares in the starting, and later they start buying on the same day.
Which Products are be traded in Intraday Trading
In India, you can start day trading in Equity, Equity Derivatives, Index derivatives , Currency derivatives, and Commodity derivatives
Equity Intraday Trading
Equity intraday trading means buying and selling cash stocks or shares on the same day. By default all stocks are Cash stocks or Equity Stocks. You can start buying stock with the companies that are listed on the stock exchange.You can buy any number of shares depending on the amount you have in your demat account and trading account and margin that your broker provides. .
Example if you have 5000rs in your trading account and your broker provides 4 times margin , you can buy shares worth 20,000rs. Example you can buy maximum 100 shares of any stock which is trading at 200rs or 50 stocks of share trading at 400rs . Remember you can also buy 50 , 60 , 88 or any other quantity provided it is less than 20,000rs total value. Normally your stockbroker will advise you to square off all your day trading stocks before 3:20 pm.
Example of Equity Intraday trading
Buy 100 shares of TATA motors @ 180rs and sell it @ 182 rs . You make profit of 100*(182-180) = 200rs. If tata motors goes in opposite direction , example 177 rs , you make loss of 100*(180-177) = 300rs .
Equity Derivatives Trading – Futures and Options Trading
Equity derivatives trading consists of the futures and options segment , also referred to popularly as FNO . Futures and options accessible on high liquidity stocks because stock exchanges select these stocks form the top 500 companies according to the market capitalization and price.
The list of stocks where futures and option trading can be done is published by stock exchanges from time to time. Many new companies keep on entering the F&O segment and some companies get removed from the F & O segment as well. As of now , 138 companies from equity markets are listed to trade in F&O space.
Example: buy 1 lot of TATA motors futures ,ie, 5200 shares @ 180rs and sell @ 182 rs . You can buy only shares in multiples of lot size (example 5200 ,10400 etc) .
Remember this is very risky due to high quantity and you may suffer big losses if you do wrong
Index Derivatives Trading
Similar to equity derivatives, we have Index derivatives as well. Index derivatives are contracts which are created on Indexes like Nifty, Banknifty etc. Index derivatives trading consist of Trading in Index futures and Index options contracts. Index derivatives are based on index value as underlying and are cash settled .
Example of index derivatives in India
NIFTY is a stock market index launched by the National Stock Exchange(NSE) on 21st April 1996. The full form NIFTY 50 is National Stock Exchange Fifty, Which displays the top 50 stocks that are traded in the stock exchange.
Derivatives of NIFTY Index : NIFTY Futures, NIFTY Options
Derivatives of Bank NIFTY Index : Bank NIFTY Futures, Bank NIFTY Options
We can trade Index futures and options in Intraday as well as hold them till their expiry or maturity period. Intraday trading is very popular in Index futures and options like buy sell Nifty because of high liquidity.
Currency Derivatives Trading
Traders can do currency derivative trading in many stock exchanges like BSE, NSE, and MSE. Generally, the currency market opens at 9am and closes at 5 pm. Currency futures and options are also available in intraday stock trading.
We should note here that India only allows trade pairs where INR is one of the constituent currencies. Example INR-USD, INR-GBP etc
Commodity Trading in India
You can start commodity trading in futures and options. Generally, the products in commodity trading are gold, silver, oil, and gases, etc. Traders can do commodity trading with many stock exchanges like MCX, NCDEX, ICEX, etc. In the above all the exchanges, MCX is the largest platform.
How to do Intraday Trading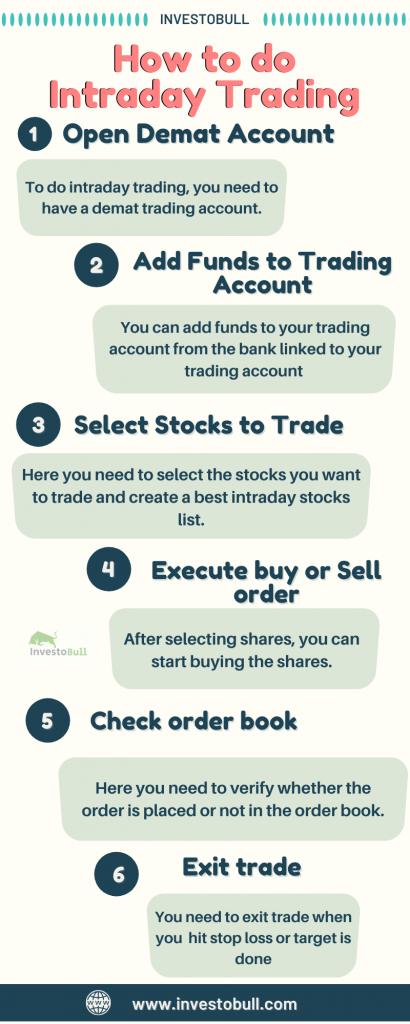 Now after understanding what is intraday trading and types of trading Intraday, lets understand how to do intraday trading
Step 1: Open Demat account
To do intraday trading, you need to have a demat account and trading account. There are currently many stockbrokers in India who can provide depositary services. Here are the list of top brokers in india.
If you have not opened the demat account till now, click on the below links to find the complete account opening process.
Step 2: Add funds to trading account
You must have a balance in your demat and trading account. Let's say you need to buy stocks of 20,000rs , then you should have minimum 5000rs in your demat and trading account provided your broker provides 4x margin (5000rs*4=20000rs). You can add funds to your trading account from the bank linked to your trading account
Step 3: Select stocks to trade
Here you need to select the stocks you want to trade and create a best intraday stocks list. This is a very important step because you have to select the proper stocks. You can buy the stocks on both NSE and BSE.For beginners , it's recommended to trade on NSE exchange because it has many buyers and sellers and is easy to trade on NSE exchange .
You can do analysis in the evening to select stocks for Intraday trading the next day . It would be better to create a watchlist for the next day.
Step 4: Execute buy or Sell order
After selecting shares, you can start buying the shares. Here you can start buying a share in 2 ways
Market Order – Here, you start purchasing the shares at the current price
Limit Order – Here, you can fix the price you want to buy the shares
You can also start buying shares using normal or MIS order.
Step 5: Check order book and verify trades
Here you need to verify whether the order is placed or not in the order book. You can see this option by clicking on the order tab and see the placed orders.
Step 6: Book profit or exit trades when you lose
Here you need to observe the market movement every minute. It is always advisable to keep the stop loss for the existing trades. Stop loss protects you when price goes against your view.
By following all these rules, you can create better profits in intraday trading.


Things to keep in Mind while starting Intraday Trading
Speed of execution
Every day traders have to use high downloading speed and uploading speed internet because you can make quick decisions when buying and selling stocks in the market. Low-speed internet may lead to huge losses while executing your orders.
Select the broker with low charges
When you want to start trading, you will use your discount broker to execute the stock market trade. In India, we have many discount brokers to select from, but you need to consider a few points before choosing the stockbroker.
Prefer stock broker with lowest brokerage
Prefer stock broker with high intraday margin
Prefer stockbroker who can provide free trading platform
Prefer stockbroker who can provide research Reports
Prefer the stockbroker with good customer support
Enter and Exit at a perfect time
It will be a good idea if you set a target price and stop-loss before you start trading. Before entering into the market, you have to verify the market trend, which can help you to reduce the risk levels. For exit positions, you have to consider two points; When you have reached your target price or when you have reached maximum losses. If once you have got your expected profits, it would be best to exit the trade.
Select the intraday stocks after extensive research
An important step in intraday trading is a selection of stocks and finding the best intraday strategy to reduce the risk levels of your investment. It is always better to select the stocks after extensive research because stocks may follow their historical path. For intraday trading india, you should always select high liquidity stocks with a high daily volume. It is advisable to avoid penny stocks and should select the stocks with good correlation with major indices.
Have a predefined target
Many traders are not confident to obtain profits in intraday trading. So it will be advisable to start with small amounts. Never expect to get rich overnight because it may lead to major losses. Increase the trade volume slowly as your exposure towards the stocks increases.
Avoid Penny Stocks
As penny stocks are highly volatile, but they provide good returns. Beginners should not prefer penny stocks because they may provide huge losses.
Select Liquid Stocks
It is one of the most important trading strategies. Many experienced traders give suggestions for beginners to select the large-capitalization stocks that are high liquidity. It is better to avoid small-cap and mid-cap due to low trading volume and less liquidity when compared to large-cap.
Don't panic:
Don't panic if you are in losses because everyone will face losses in trading. Everyone will make mistakes, but you need to learn from your mistakes.
How to selects stocks for Intraday Trading
Your success in day trading depends on stock selection . You have to learn stock selection for intraday trading . Remember to trade in those stocks where there is high liquidity and prefer top 200 stocks only .
You need to learn complete technical analysis in order to start trading in the stock market. For a complete course on Intraday trading click on the below link.
Intraday Trading Tips in Indian Share Market
If you are a beginner in intraday trading, you must avoid all such mistakes while doing trading. Day traders can make profits even when the market is moving downwards; it is called shorting a stock.
Here are the best intraday tips for stock market trading for intraday
Always keep stop-loss to avoid huge losses
Invest a low amount for each trade to avoid total loss
Always prefer liquidity stocks to perform well
Follow the market trend
Don't be panic in any situation and never try to take revenge
Fix the target price and book the profit your trade
It will be better to square-off your position before the market is closed
Never trade with the stocks when you are not convinced
Terminologies used in Intraday Trading
Margins
Margins are also described as leverage in intraday trading. By using margins, you can trade high volume with a low amount.
Example: If you want to purchase 200 shares with Rs 50. You must be required Rs 10000 to buy that share. For suppose if you have Rs 2000 with you, then your stockbroker will arrange the remaining amount, but you need to settle the amount by the end of the trading session. In this situation, the stockbroker provided you 4X margin, which means 4 times your money.
Earlier brokers used to provide very high leverage of 25times, 30 times in intraday trading. However after new SEBi regulations of Dec 2020 , brokers are forced to do peak margin reporting during the day which allows all brokers to offer nearly the same margins of around 4 times.
Target Price
Target price helps you buy or sell the stocks at a particular price you are interested in.
Example: If the current share price of reliance Rs 450 and you want to sell the share at Rs 470. In this situation, you have to fix the target price to sell the reliance share at Rs 470.
Market Order
The current trading price of a share is nothing but market orders. Here you buy or sell liquid stocks at a reasonable price.
Stop Loss Order
A stop–loss order can be placed with a stockbroker to buy or sell a particular stock once the stock strikes a specific price. A Stop-loss order defends you from huge losses.
Example: If you have purchased Tata shares at Rs 500 and want to sell the shares at Rs 540, but due to market volatility, the share price may decrease to Rs 495. To avoid this situation, you can put a stop loss at Rs 494 and stay away from major losses.
MIS Order
The abbreviation of MIS orders is Margin Intraday Square off orders. As the name implies, MIS orders are intraday orders that are placed in equity, futures and options. MIS orders are used to square off the positions before the market is closed for the day.
Bracket Orders (BO)
Bracket orders are used to avoid risks in day trading. It will lock your profits and losses by producing the brackets on both sides.
Example: If you want to buy a bracket order for reliance and it's current share price is Rs 1000. Then you c=lace buy order at 1000 and target price at Rs 1010 and stop loss at Rs 995.
Algo Trading or Automated Share Trading
Automated trading systems will automatically buy and sell the shares according to the program designed. They are also called algo trading, black-box trading.
What is scalping
Scalping is a day trading strategy where we buy and sell stocks for very small movements. Example execute 20 trades of small profits
Bullish – Here, you will expect the market trend will move up
Bearish – Here, you will expect the market trend will move down
FAQS
What are the best intraday stocks?
It is very tough to select the stocks for intraday trading. For finding the best stocks for intraday trading, click the link intraday screener.
How to select stocks for intraday?
Intraday traders can select the stocks according to the high liquidity stocks, medium liquidity, and low liquidity stocks. It is preferable to select the high liquidity stocks. Traders should consider market capitalization and market trends while selecting intraday stocks for today.
How to do trading for intraday trading?
In intraday trading, the traders should square-off their positions within the same day before the market closes. Whereas in regular trading, the traders can stay for the long term. For both traders, the settlement can be done in a couple of days.
How to do trading for beginners
Here are the few ways to know how to trade intraday
Select a stockbroker
Take intraday Trading Training 
Develop a Trading strategy. 
Set up a demo account. 
Fix your goal and start with a small amount
Find out the tax assumptions.
How many trades do intraday traders make for a day?
You can mostly make three to 4 trades per day because your trading day is very short. It is better to improve a trading strategy according to the market condition.
How many stock exchanges are there in India?
Here are the list of stock exchanges in India.
National Stock Exchange
Bombay Stock Exchange
Calcutta Stock Exchange
Metropolitan Stock Exchange
Multi Commodity Exchange
National Commodity & Derivatives Exchange Ltd, etc.
Recommended Brokers
No 1 STOCKBROKER IN INDIA
Zerodha
Free equity & mutual fund investments | Flat ₹20 intraday and F&O trades
Rating
★★★★★
APPLY NOW
GET FREE DEMAT ACCOUNT
Upstox
Fix brokerage of Rs. 20 per trade
Rating
★★★★
APPLY NOW
GET FREE DEMAT ACCOUNT
Angel Broking
0 Brokerage on Equity Delivery | Rs 20 per order for Intraday‎ and F&O trades
Rating
★★★★★
APPLY NOW