Mutual funds are one of the best investment options in India to create good wealth in the long term. Therefore, it becomes essential to select the best mutual funds in your portfolio that beats markets in the long term. In this article, we will discuss How to select best mutual funds for investment, why Mutual funds are one of the best investment options in India and few checkpoints that you can have while you want to select mutual funds.
Why should you invest in Mutual Fund?
Investing can be difficult, as there are various options out there, from stocks and bonds to real estate and Gold. Whatever you decide, there won't be any guarantee that you'll earn profits from your investments. However,we can study past behaviour of different classes of investment products and see how they have given returns in the past.
When we compare all other asset classes , we will see that Mutual funds are the only asset classes which have given returns of 12-15% over any 15 years time frame that you select for comparison. Other investments like Gold , Real estate etc have very long periods of no returns as well as lesser returns compared to Equity and Mutual funds.
Now when we talk about wealth creation in the long term, we can be rest assured that for over a period of fifteen plus years, Mutual funds have historically given the best returns.

How to Start Investing In Mutual Funds Online?
Factors to select Best Mutual Funds
Once we have established that Mutual Funds are the safest and easiest Wealth creation tools available for investors, we have to learn on How to select the best mutual fund among the plethora of options we have today.
Let's take a look at the most important factors that you need to take care of while investing in Mutual funds.
Investment Objective
While analyzing mutual funds, first, we have to know about the goals and objectives of the fund. Every mutual fund has an offer document that is available on Mutual funds AMC website. In that document, the goals and objectives of the fund are clearly written.
In some cases, the primary aim will be to keep money safe by investing 80% of funds in safe government bonds. In other cases, they will primarily invest in growth and focus on growing companies.
We need to check whether the goals and objectives provided are suitable for us to invest in or not. Understanding risk and return expectation of mutual funds help to answer the age-old question – which is the best mutual fund for your investment.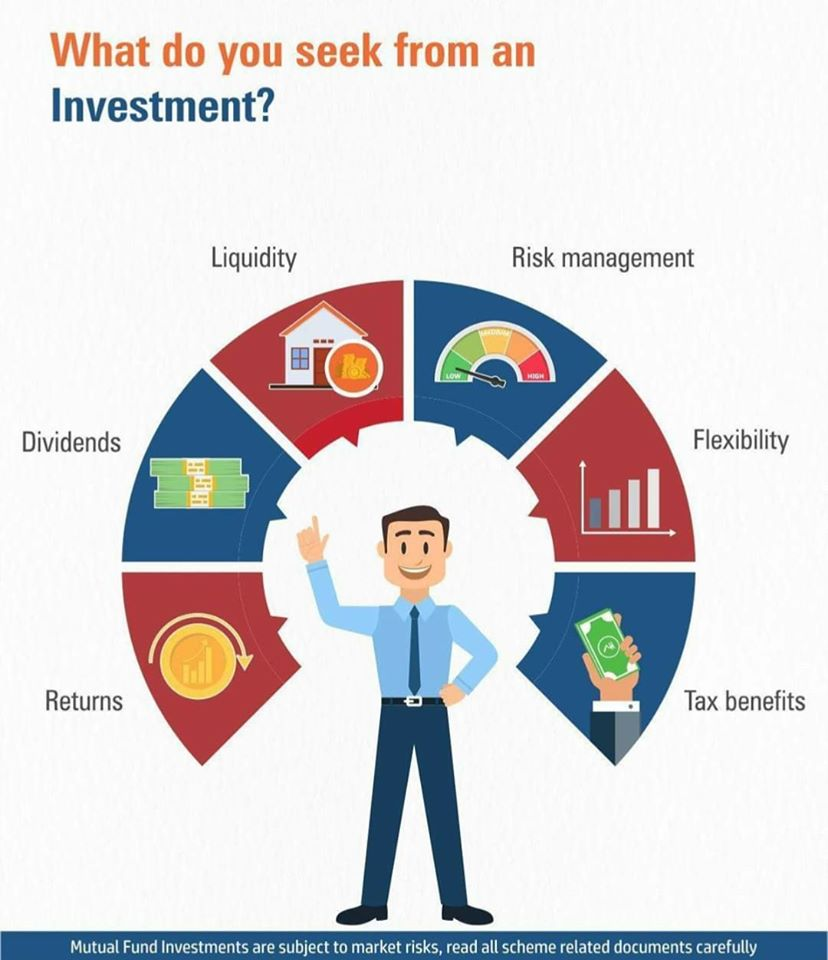 Check Previous Performance of Mutual Fund
After goals and objectives, the second step would be to check its past returns from the starting of mutual funds and see the CAGR (Compound Annual Growth Rate).
CAGR represents annualized returns that the Mutual Funds have given over a period of time. Mutual funds are managed by experts and usually run by asset management companies who invest the capital into various asset classes based on the mutual funds objective.
For every mutual fund, there will be a benchmark to check their performance. For example, for a Large Cap fund, the benchmark is the Nifty Index. If a fund is consistently giving fewer returns than the benchmark, it's time to exit the funds.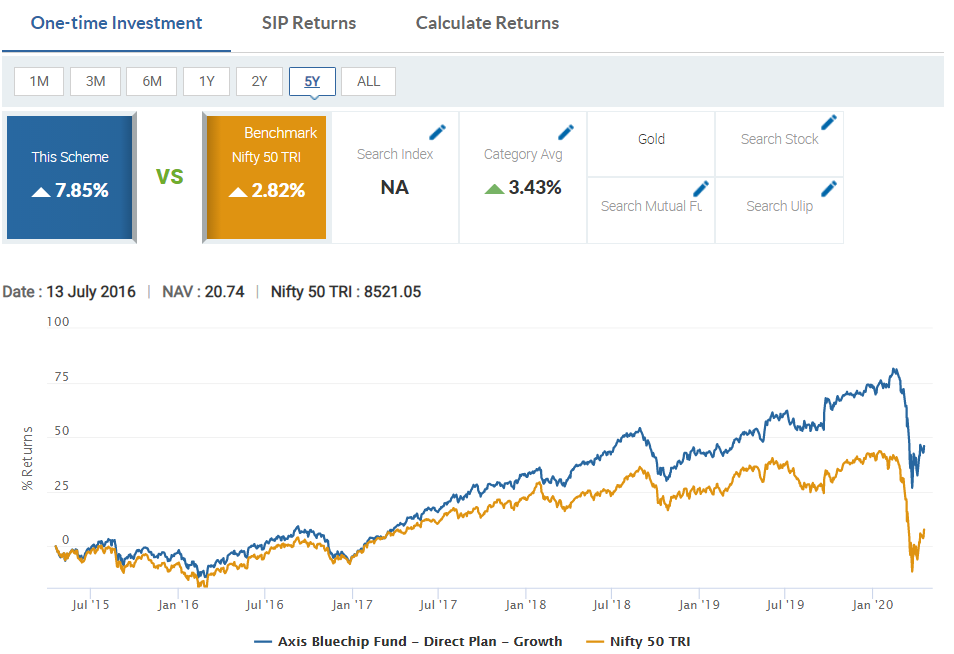 Select Best Mutual funds having good Fund Managers with a good past performance record
The risk of losing money is also associated with a mutual fund, though it's less risky than direct equity investments.
For some investors, the frustration associated with losing money in a mutual fund is compounded by the fact that the investor is unaware of what kind of buying or selling activity the fund engages in.
You need to select the best Mutual funds with Fund Managers who have a very good track record of generating good returns and making the right decisions.
We have to analyze the risk and rewards associated with mutual funds, which are mentioned in the offer document. Small-cap and mid-cap funds performance will give the best returns in a very long period.
However, it will carry a very high risk. So make sure your risk capacity is aligned to Mutual funds that you are investing in.
Select Mutual funds having low Expense Ratio

Before investing in a mutual fund, you have to check the expense ratio of a particular scheme. The expense ratio is the total percentage of assets under management that is charged as fees.
I always look forward to choosing the mutual fund with a lower expense ratio. To know the expense ratio better, you can compare mutual funds schemes with others.
An expense ratio is charged by a fund manager in the mutual fund company to maintain the investor funds. Mutual fund companies often incur many operating expenses when managing shareholder funds, and they charge a small amount from the investor fund to recover the expense.
Average ER of Direct and regular mutual fund plans
| Fund Category | Equity | Debt | Hybrid |
| --- | --- | --- | --- |
| Regular Plan | 2.20% | 0.90% | 1.96% |
| Direct Plan | 1.22% | 0.42% | 0.98% |
| Difference | 0.80% | 0.48% | 0.98% |
Formula:
Expense Ratio = Total Fund Cost/Total Fund Asset

Lets discuss what is the expense ratio in a mutual fund with an example?
For example, you have invested Rs 50,000 in a scheme that has an expense ratio of 2% yearly. It means you have to meet Rs 1000 for portfolio management. If you got 10%
interest on your capital, i.e. Rs 5000, then you get only Rs 4000.
Total Payment = (Rs 50,000 + 10% of ₹50,000) – 2% of Rs 50,000
= (Rs 50,000 + Rs 5000) – Rs 1000
=Rs 54,000
Chose Direct plans over Regular Investment Plans
Before investing in mutual funds, we need to choose whether to invest in a regular plan or a direct plan. In a regular plan, you get through a distributor and mutual fund as the distributor takes the commission, which will be added to the mutual fund scheme.
In this direct plan, the ratio will be less than the regular plan ratio. It is mandatory to select the best mutual fund according to the plans.
| Particulars | Direct Plan | Regular Plan |
| --- | --- | --- |
| Expense Ratio | Low | High |
| Returns | High | Low |
| Investment Advice | Not Available | Available |
| Market Research | Self | Agents |
| Convenience | Low | More |
Check the Exit Load of the Mutual Fund
The mutual fund schemes are time-bound. In case of an early withdrawal from the plan before the maturity period, the investors should pay the exit load. In case of emergency, you may require to withdraw from mutual fund schemes prematurely to gain liquidity of assets. The exit load of the mutual fund should not be very high if you intent to keep fund for short to medium duration.
By following the above checkpoints and criteria for selecting the best, mutual fund schemes may help to select the most suitable schemes to build a balanced portfolio.
Good diversification of Large cap, Mid cap or small-cap Mutual funds
To answer the question of how much investments you need to make in different types of mutual funds , you need to consider two factors – Risk and Time for investment.
If we are young and our time horizon is more, we can take more risks. We should invest 70% in Small and Mid-cap funds and 30% in large-cap funds.
If a person is in the mid-'40s, he should Invest 40% in Mid-cap and small-cap while 60% in Large-cap
If a person is in '60s, he should keep 90% of the money in Large-cap funds and only a nominal amount in Midcap and small-cap funds


Funds to pick for different time duration and risk capacity
| Time Horizon/Risk | High Risk | Medium Risk | Low Risk |
| --- | --- | --- | --- |
| Short Duration(Up tp 3 years | Mid cap funds, Small cap funds | Balanced Advantage Funds | Large Cap funds |
| Medium Duration( Up to 5 Years | Mid cap funds, Small cap funds | Multiple cap Funds | Large Cap funds |
| Long Duration( 5 years and above) | Mid Cap Funds, Small Cap Funds | Multiple cap Funds | Large Cap Funds |
Fund Manager's Experience
If a mutual fund's past years, the fund's manager has been changed, we have to wait and check the new fund manager's expertise and track record.
We need to start investing only when the expertise and track record are good. By selecting the best mutual fund in India, you can get better profits for your investment.
Summary
FAQs
WHAT IS ASBA?
The full form of ASBA is Application Supported by Blocked Amounts, and banks give this facility to investors in NFO of mutual funds. If you ask for Units through ASBA during New Fund Officer, your request amount is blocked in your account and debited against allotment of Units.
In other words, the money stuck will be in your bank account till allocation, but it cannot be used until allocation is completed.
What is a Fund of Funds (FoF) scheme?
A scheme that initially invests in different schemes of the same mutual fund is known as an FoF scheme. An FoF scheme allows investors to obtain more diversification through one scheme. It increases risks across the world. 
WHAT IS A FOLIO NUMBER?
It is also the same as bank account number, a Folio number is your mutual fund scheme account number, below which your units are holding in a mutual fund scheme and are registered in the Unit Holders' Register.
All Mutual Funds give a Master Folio number, so that unites of a unitholder are registered under a standard folio number thereby avoiding the holder to remember many folio numbers.
Which is the best investment in India?
Here are the list of the best investment in India to reach your financial goals
Debt mutual funds.
National Pension System (NPS) 
Public Provident Fund (PPF)
Bank fixed deposit (FD)
Senior Citizens' Saving Scheme (SCSS)
Gold.
Recommended Brokers
No 1 STOCKBROKER IN INDIA
Zerodha
Free equity & mutual fund investments | Flat ₹20 intraday and F&O trades
Rating
★★★★★
APPLY NOW
GET FREE DEMAT ACCOUNT
Upstox
Fix brokerage of Rs. 20 per trade
Rating
★★★★
APPLY NOW
GET FREE DEMAT ACCOUNT
Angel Broking
0 Brokerage on Equity Delivery | Rs 20 per order for Intraday‎ and F&O trades
Rating
★★★★★
APPLY NOW