Unless we put our money to work, the value of our money will keep decreasing. A 100 rupee today will be worth less than 100rs in next year as inflation will increase. In this post, You can learn How to start investing in the stock market for beginners.
To beat inflation and generate good returns, Stock markets can be a great place for achieving your long term wealth creation goals.
But before investing in the stock market, you need to learn how to invest in the stock market, How to buy stocks, and how to make the right investment choices.
What is Investing in the Stock Market?
Buying stocks or shares or Mutual funds , and holding for a longer-term, usually more than 3-5 years, is known as investment. When we invest in financial instruments like Mutual funds or Stocks, our aim is to generate returns that are higher than FD interest rates provided by the Bank.
The profits generated should also beat inflation. Let's take an example here. Today in 100 rupees, we can buy 1 liter of mustard oil. After 1 year, due to inflation, the oil price of the same brand may increase to 105rs.
So unless we grow our current 100rs to more than 105 rupees, we can not buy the oil bottle in the future. When we deposit 100rs in the Bank, we will get a 6% interest rate on FD, and the Bank will give me 106rs at the end of the year.
When we get 106 rs, we can buy 105rs of oil next year, but our savings will be 106-105 = 1rs only. Hence inflation-adjusted returns in Bank FD is only 1rs on 100rs.
Let's assume we invest 100rs in stocks, and we get 12 percent returns after a year. In this case, the value of 100rs will become 112rs. Assuming the same inflation, we will generate 112-106 = 6rs more than what we have generated if we kept in Bank.
This is called beating the inflation and generation good returns. This is a basic purpose of investing – to generate higher returns on your investment to generate wealth after considering inflation. One way to generate such returns, you should be aware of how to invest in the stock market via a mutual fund, Stocks, ETF's, etc.
What are the different Investment options in the Stock market?
We can invest in the share market via multiple routes. The few most popular ones are Mutual Funds, ETF's and directly purchasing stocks.
If you are a beginner and want to get decent returns on your investment, you can start investing in the Best Mutual funds through SIP mode or Lumpsum mode.
If you want to generate higher returns and you can learn stock market basics to analyze stocks and companies, you can go for directly investing in stocks or equities.
But investing in the stock market can be risky for beginners. You must know how to do a fundamental analysis of stocks and share market basics before investing.
What is a share and how does its price change?
A share is like ownership of the company. If you own .5% of the total stock of the company, then you become .5% owner of the company. If the company earns profit then as an owner of that company, even you will be profited, and the profits will be shared as a dividend.
In the short term, share prices get moved by the news, events, etc. In the long term, if the company keeps making money every year and increases profits, it keeps rewarding its owners in the form of dividends.
Hence the demand for such shares will also be up, and the stock price will rise in the long term.
How to Start Investing in the Stock Market?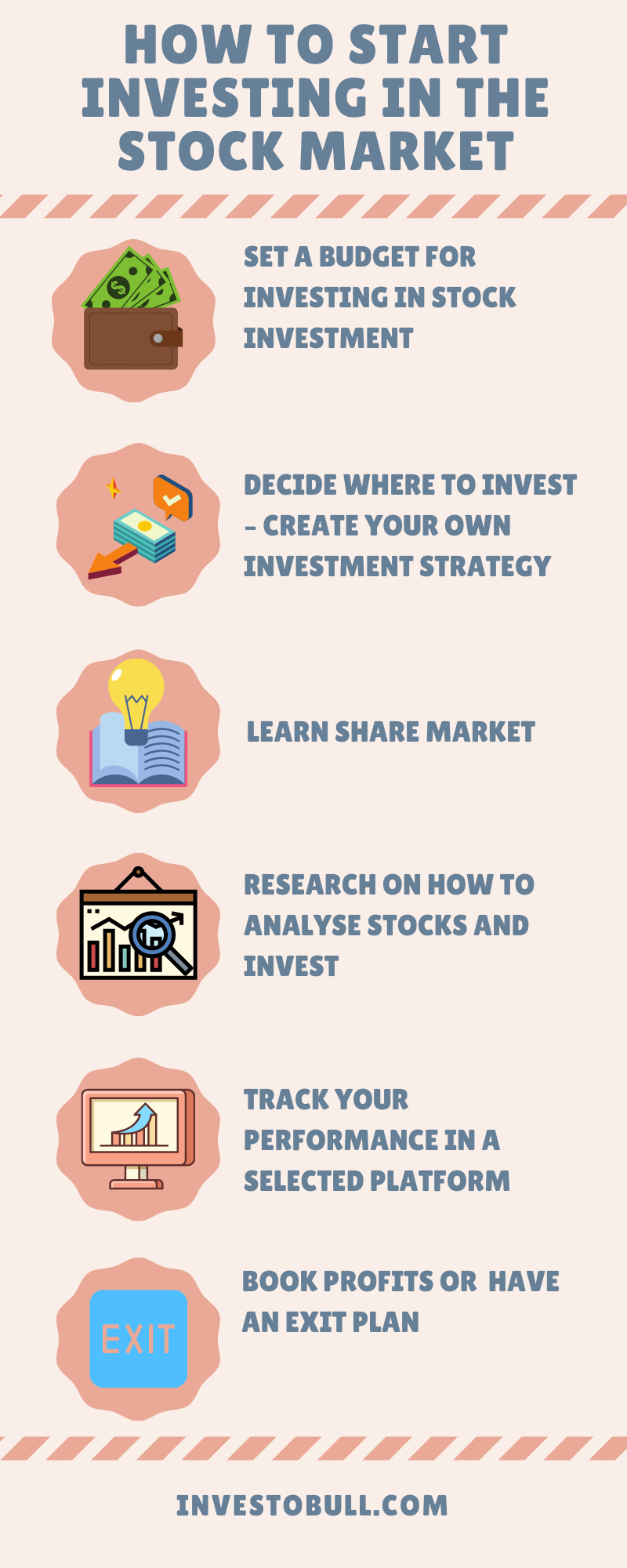 Requirements Before You Start Investing in Stock Market
For investing in the share market, you should have a
You need to open a Demat Account with a reputed stock broker for starting your investment journey. There are many top stockbrokers in India. We recommend Zerodha, which is one of the best stock brokers in india and it also offers free investments with no brokerage charges. You can visit this direct link to the Open Zerodha Demat account online in 10 minutes and get started. Below is a list of documents needed to open a Demat account online.
GOLDEN ADVICE BEFORE YOU START INVESTING IN STOCK MARKET
Here are a few pieces of advice for people who are willing to start investing in the stock market.
Never take loan and invest
You must pay off all your high-interest debts like credit card dues debts, personal loans, etc. The interests of these loans are higher than your returns from the stock market.
Invest only your excess funds
Invest money in a way that won't affect your routine life. When you are new to the share market, Investing in debts/loans is not a good idea.
You must keep some cash in hand
The cash in hand always works as an emergency fund and the key to freedom. When you have cash in hand, You can make key decisions in your life, like shifting to a new city or quitting your job. Never invest all your funds in the share market as it leads to a major loss.
Keep your investment duration long enough
Though you can invest for any amount of time, its usually recommended to keep your investment duration for more than 5-7 years if you want to generate the best returns from the share market.
Steps to start investing in the stock market?
You can increase your wealth by investing in the stock market. Once you have opened a Demat and trading account, let's take a look at how to invest in the share market by following the steps below
1. Set a budget for investing in stock investment
You can follow 50-30-20 rule for saving monet for investing in stock markets. It means if you earn 100rs, you should spend 50rs on necessities and needs, 30rs on wants and desires and save 20rs . Out of this 20rs saving you can invest some amount in stock markets depending on your age.
If you are young, you can invest up to 40% of your savings in stock markets. If you are in Mid '40s, its recommended to not invest more than 20% of total savings in stock markets
2. Decide where to invest – Create your own investment strategy
Once you have decided an amount , it's time to design a portfolio which will have Stocks , Mutual funds and ETFs. If you don't have knowledge of the stock market , you can invest all amounts in Mutual funds .
If you want to invest in the best mutual funds and have a small budget, an exchange-traded fund (ETF) will be the best option to invest in. Mutual funds often have minimums of Rs 500 or more, but ETFs trade like a stock, where you can purchase them for a share price. Read more on What is an ETF here.
If you have knowledge of stocks and can select stocks, it's advisable to create a portfolio having a mix of Mutual funds and stocks.
Decide whether you are willing to invest in the lump sum or by SIP (systematic investment plan). Plan for a small periodic investment, then you need to analyze how much money you want to invest every month.
Most people misunderstand that they need a large amount to start investing in the stock market, but that's not true. You can start with any small amount of money
3. Learn Share Market
There are many stock market books for investing, which helps you to learn the stock market basics. Here are the few books which are
4. Research on How to Analyse stocks and invest.
If you notice the product or services of any company, you need to do research on them. You have to find out more about its parent company, whether it is listed on the stock exchange or not, its current share price, etc. Most of the products or services that you use in daily life like soap, shampoo, cigarettes, bank, petrol pump, SIM card will have a company behind them.
5. Track your performance in a selected platform(H3)
You can use a google spreadsheet to track your stocks. Make a spreadsheet with three tables which has
6. Book profits or have an exit plan
It's always good to have an exit plan. You can either book profits or cut a loss to exit a stock. Mostly, there are only four situations when you should sell a good stock in your portfolio, which are
If you have achieved your investment goal, you can exit the stocks happily. You can book a portion of the profit from your stock portfolio and move it to other further safer investment options. If the stock has fallen, then you have to exit the stock.
How to find good stocks to invest in the stock market?
Selecting good stocks for investments requires understanding of how companies operate and how future earnings of a company will increase or decrease. When we analyse companies on such financial parameters by analysing its profit loss statement and balance sheet, we call it fundamental analysis of the company. Let's read below few of the parameters which helps to select best stocks for investing in share market.
A. Growth in sales and profit
The companies which have the potential to grow their sales and profit can be a good bet for the future. If the company sales are growing at a faster rate every year, then the investors will be attracted to invest in that company. If the investment increases, then its demand and stock price will increase.
B. Industry/sector performance should be good
It is mandatory to check whether the future of the industry in which we are investing is promising or not. By using a top-down approach, we can find good sectors first and then select top companies in this sector.
C. Debt companies should be avoided
A heavy debt-ridden company should be avoided as if the market moves down, and then it can impact these companies' performance. You can track debt/equity from the balance sheet or ratios details on many stock analysis websites. Increasing Debt to equity ratio of Debt to a ratio greater than one is not preferable.
D. Return on Equity ROE /ROCE
You have stock market investment whose return on equity and capital employed is greater than 15% on average for every year. The company is generating more returns for investors using the capital, which is employed. An increasing ROE/ROCE over the years is very good.
E. Price to Earnings ratio or PE ratio
It gives you an indication of whether the stock is overpriced or not. If the PE is higher, then the people are ready to give more price as compared to its earning as a present. The PE ratio of the company should be compared to the industry to understand whether they are cheap stocks to buy or expensive.
F. Management Quality
Most of the people ignore this parameter as it is hard to get information about the management of a company. If the management is innovative and competent, then it can perform better as compared to its peers in the same sector. The management and promoters should not have any tainted history or criminal cases against them.
G. Liquidity Ratio:
Companies with a large number of tangible assets are stable and less risky. We can measure liquidity ratio by using financial ratios like Quick ratio or current ratios, which measures total current liquid assets/ total current liabilities. A quick ratio greater than 1 is preferable.
Conclusion
Many of the well-known investors in India come from very humble and normal academic backgrounds. If you don't have a Demat account, then you can read the Zerodha review and Upstox review. Beginners can take the help of this article to kick-start your journey of investing in the stock market.
Frequently Asked Questions
Where can I find the company's financial report?

There are three places where you can find the company's financial reports and other information about the company.

Company Website
Financial Websites like money control etc.
Stock Exchange Websites(NSE/BSE)

How to verify my registered mail ID

If you are a new client, you can Sign Up on the Website using your Email ID. If once it is completed, you will get a verification link to the registered mail id. You have to verify your account using that link. You cannot log in to your account with verification.

How to select good companies in the Indian stock market?

An easy way will be stock screener. By using these screeners, you can use a few filters like debt to equity, ratioPE ratio,  etc. 

Can retail investors also bid a book built issue

Yes, He can bid, but the value should not be more than 1 lakh. If he bid more than that, it will come under HNI Category.

What is the best app for trading

Here are the list of Best Trading App India
Zerodha KITE
upstox pro 3.0
Angel Broking online trading app
Edelweiss online trading app
Stoxkart online trading app
Recommended Brokers
No 1 STOCKBROKER IN INDIA
Zerodha
Free equity & mutual fund investments | Flat ₹20 intraday and F&O trades
Rating
★★★★★
APPLY NOW
GET FREE DEMAT ACCOUNT
Upstox
Fix brokerage of Rs. 20 per trade
Rating
★★★★
APPLY NOW
GET FREE DEMAT ACCOUNT
Angel Broking
0 Brokerage on Equity Delivery | Rs 20 per order for Intraday‎ and F&O trades
Rating
★★★★★
APPLY NOW