1.Growth in sales and profit:
The companies which have the potential to grow their sales and profit can be a good bet for the future. If the company sales are growing at a faster rate every year then the investors will be attracted to invest in that company. If the investment increases then its demand and stock price will increase. Multibaggers stocks usually increase their sales multifold during a sharp growth phase..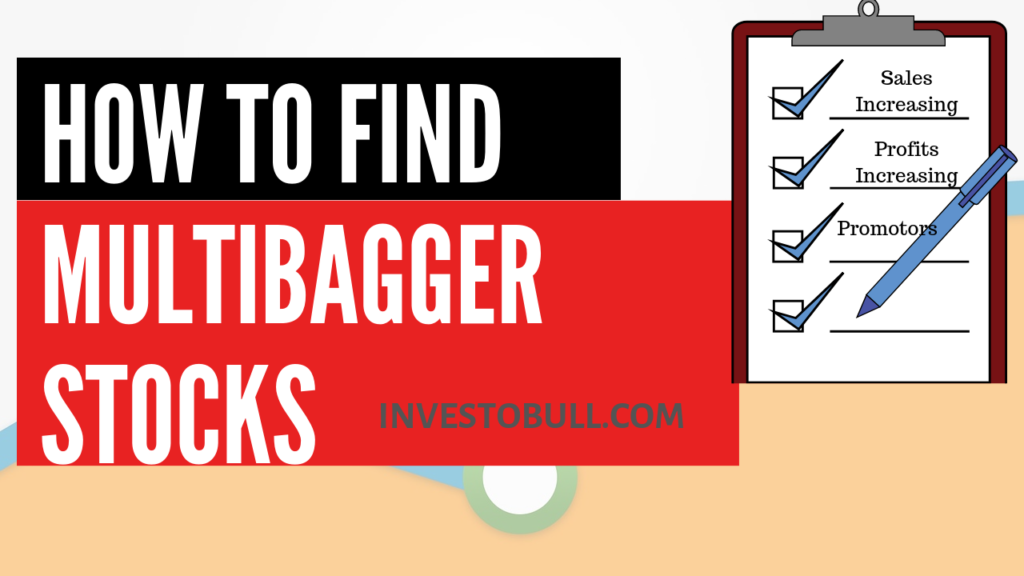 "Multi-bagger Stocks are normal stocks that do good over a long period"
2.Industry/sector performance should be good:
It is mandatory to check whether the future of the industry in which we are investing is promising or not. By using the top-down approach we can find good sectors first and then select good stocks for investment in this sector.
3. Debt companies should be avoided:
Heavy debt-ridden companies should be avoided as if the stock market moves down then it can impact these companies' performance. You can track debt/equity from the balance sheet or ratios details on many websites. Increasing debt to equity ratio or Debt ratio greater than one is not preferable. Multibagger stocks have very low debt to equity usually . Even if debt is more , the return generated using that debt is very good.Lets see those ratios below which will help you identify best multibagger stocks for investment
4. Return on Equity ROE /ROCE:
You have to make a stock market investment whose return on equity and capital employed is greater than 15% on average for every year. The company is generating more returns for investors using the capital which is employed. An increasing ROE/ROCE over the years is very good.
Return on Equity Formula:
Return on Equity Ratio Formula = Net Income/Stockholders Equity
5.Price to Earnings ratio or PE ratio:
It provides you an indication of whether the stock is overpriced or not. If the Price to Earnings ratio is higher than the people are ready to give more price as compared to its earning as a present. The PE ratio of the company should be compared to the industry to understand whether the stocks are cheap or expensive.
Price to Earnings Ratio Formula:
Price to Earning Ratio = Market Value per share/Earnings per share
6.Management Quality:
Most of the people ignore this parameter as it is hard to get information about the management company. If the management is innovative and competent then it can perform better as compared to its peers in the same sector. The management company and promoters should not have any tainted history or criminal cases against them.
7.Liquidity Ratio:
Companies with a large number of tangible assets are stable and less risky. This can be measured using financial ratios like Quick ratio or current ratios which measures total current liquid assets/ total current liabilities. A quick ratio greater than 1 is preferable.
Liquidity Ratio Formula:
Quick Ratio = Cash and Equivalents + Short Term Investments +Current Receivables/Current Liabilities
FAQs
Who regulates stock exchange?

In India Stock Exchange is Regulated by SEBI. It looks after financial mediators and every entity of the stock market. A stock exchange is the central entity of the stock market

Does the government-run stock exchange?

No, stock exchanges are run by private organizations. A Government organization manages it trough SEBI.

What is the role of SEBI in the Indian financial system?

The main role of SEBI in the Indian financial system is to control the stock markets systematically. Therefore, SEBI was developed to protect the interests of every trader and investor in the stock market.
Recommended Brokers
No 1 STOCKBROKER IN INDIA
Zerodha
Free equity & mutual fund investments | Flat ₹20 intraday and F&O trades
Rating
★★★★★
APPLY NOW
GET FREE DEMAT ACCOUNT
Upstox
Fix brokerage of Rs. 20 per trade
Rating
★★★★
APPLY NOW
GET FREE DEMAT ACCOUNT
Angel Broking
0 Brokerage on Equity Delivery | Rs 20 per order for Intraday‎ and F&O trades
Rating
★★★★★
APPLY NOW