Let's understand all about Indian Stock market timings(share market closing time and share market opening time) in Equities Markets, Currency Markets and Commodities market. We will also understand What is pre-open or pre-market session, regular market session and post-market session.
Stock Market Timings India
Stock markets or Equity Markets are opened on weekdays, ie, Monday to Friday . Markets are also closed on National holidays. Though the regular share market timings are from 9.15 AM to 3.30 PM , there are three main sessions in stock market on working day .Lets understand each one step by step .
| | |
| --- | --- |
| Name | BSE NSE Market Timings |
| Pre open market Session | 9.00AM to 9.07AM |
| Regular Trading session | 9.15AM to 3.30 PM |
| Post Closing Session | 3.30pm to 4pm |
What is Pre Open session.
Pre open market session starts at 9.AM and finishes at 9.15AM . Pre open session , as the name suggests , is a session when group of buyers and sellers place bids and then an equilibrium price is calculated at which the stock will open. Pre open or Pre market session consists of three parts-
9.00AM to 9.07 AM (order placement)
● You can enter your orders in this time as well as and Modify it. It accepts all types of orders like MIS (Intraday) and CNC(delivery) . Only Equity orders are allowed in Pre Open and derivatives orders are not allowed

● You can Place limit orders at indicative equilibrium price . Indicative equilibrium price is the price at which a stock is expected to open and can be seen at this link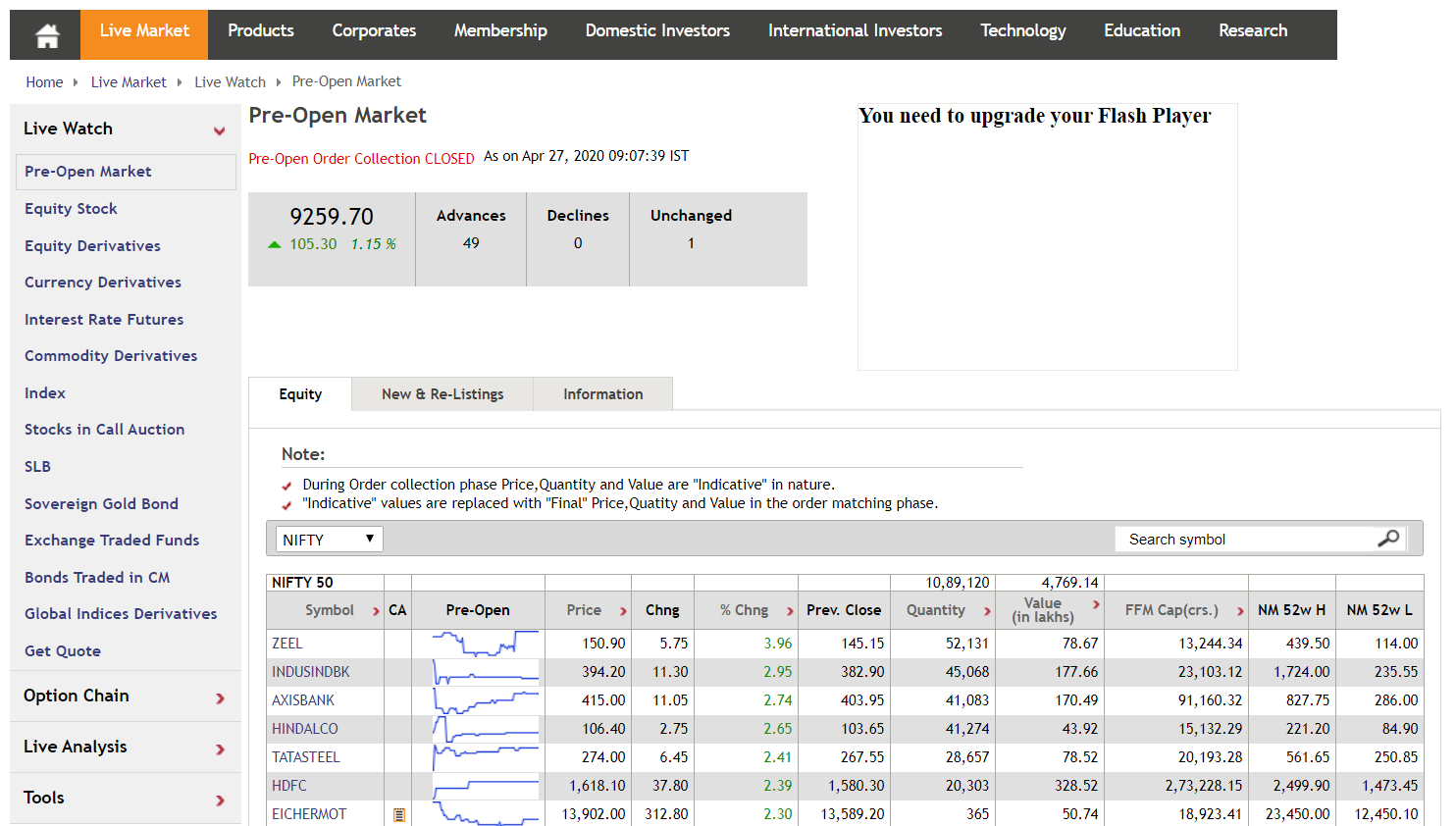 ● If your order is not fulfilled, It will be carried to Regular session as open order. Example if you places buy 500 shares of Reliance at 1400rs and pre market equilibrium price is at 1410rs , your order will be carried forward to regular market session as a open buy order at 1400 rs.

9.08AM -9.12AM (Order matching)
● Trades are executed at equilibrium price at which the stock will open . This will help to decide a smooth and better price based on demand and supply . Usually trades are executed at 9.08 AM itself , the remaining 4 minutes are just extra time .

● If trade is not executed , carry forward as open orders.
9.12 to 9.15 (Buffer time)
●This is called Transition timing, Buffer period for regular opening . Usually nothing happens in this time period. At sharp 9.15am , regular market opens!

What is Regular Market session?
Regular market session is the session after the pre-open when the market and stocks open at equilibrium price discovered in pre-open. This is the time when majority of people start buying and selling stocks and price moves up or down based on demand and supply. Remember Futures and Options can be traded only from 9.15AM to 3.30PM time only
● 9.15 AM to 3.30 PM is regular sesion
● Bulk deals window – 35 mins from 9.15
● 3.00PM to 3.30PM , volume weighted average price is taken as closing price
What is Post Market Session
Post market session is a session which comes after 3.30 PM and it lasts till 4.00PM. Post market session consists of two session primarily .
● 3.30 to 3.40 PM is used for calculation of Closing Price . Closing price is basically volume weighted average price of a stock from 3.00pm to 3.30PM

● 3.40 to 4 PM is a window called post market order placement session in which one can place trades and Trades are executed at closing price of today on next day if buyer and seller don't cancel. Remember only delivery buy and delivery based selling (CNC order) is allowed . Usually liquidity is very low in this session

● AMO (After Market Orders)
Commodity market timings in India
Commodity markets are markets where Agriculture based commodities and International commodities like gold, silver, Oil, etc are traded in derivatives. Commodity market timings have changed many times in recent past due to Covid 19 outbreak issue. However, lets take look at regular commodity market timings
AGRI Commodities: 9 AM TO 5 PM
International commodities – 9 AM to 11.30 PM

Currency market timings in India
Currency markets are markets where Currency pairs like INR /USD is trades.
General bse and nse timings 9 AM TO 5PM
currently 10am to 2pm due to Covid19
Special Trading Session
There is a special 1 hour trading session when Stock markets remain open on auspicious occasion of Diwali festival in India. This is called Muhurat Trading session and is of usually 1 hour duration in evening from 5.30 to 6.30pm. Exact timing is announced by stock exchanges few days before diwali.
FAQs
What are the bse and nse trading time in India?
The trading time in India open from Monday to Friday between 9:15 AM and 3:30 PM(NSE, BSE opening time, and closing time).
Can we buy stocks on Sunday?
No, In India, the stock market operates only five days (Monday-Friday) and is closed on weekends, i.e., Saturday and Sunday.
Can I buy stocks at night?
Everyone can buy and sell stocks only during market hours. However, you can also place orders after market hours which are named 'overnight orders. Usually, aftermarket hours, the orders are registered in the system, and then they will be sent to the stock exchange whent the market opens 
Recommended Brokers
No 1 STOCKBROKER IN INDIA
Zerodha
Free equity & mutual fund investments | Flat ₹20 intraday and F&O trades
Rating
★★★★★
APPLY NOW
GET FREE DEMAT ACCOUNT
Upstox
Fix brokerage of Rs. 20 per trade
Rating
★★★★
APPLY NOW
GET FREE DEMAT ACCOUNT
Angel Broking
0 Brokerage on Equity Delivery | Rs 20 per order for Intraday‎ and F&O trades
Rating
★★★★★
APPLY NOW