The most important step when you want to start trading or investing is Open demat account and trading account. Zerodha demat account is undoubtedly the best demat account in India with over 35 lakh clients . Zerodha has best Mobile App , offers lowest brokerage charges and has best mutual funds platform.In this article lets understand in detail What is zerodha and how to open trading and demat account online with Zerodha in easy steps. We will see Documents needed to open Zerodha demat account online and step by step process for the same. You can use this direct link to visit Zerodha account opening page and start Account opening process by registering mobile number and OTP. Click here to open Zerodha Demat account. You can see below how the opening page looks like and you can enter phone number to get started.

Visit Zerodha account opening page below and enter phone number
Enter OTP received on Mobile to proceed with account opening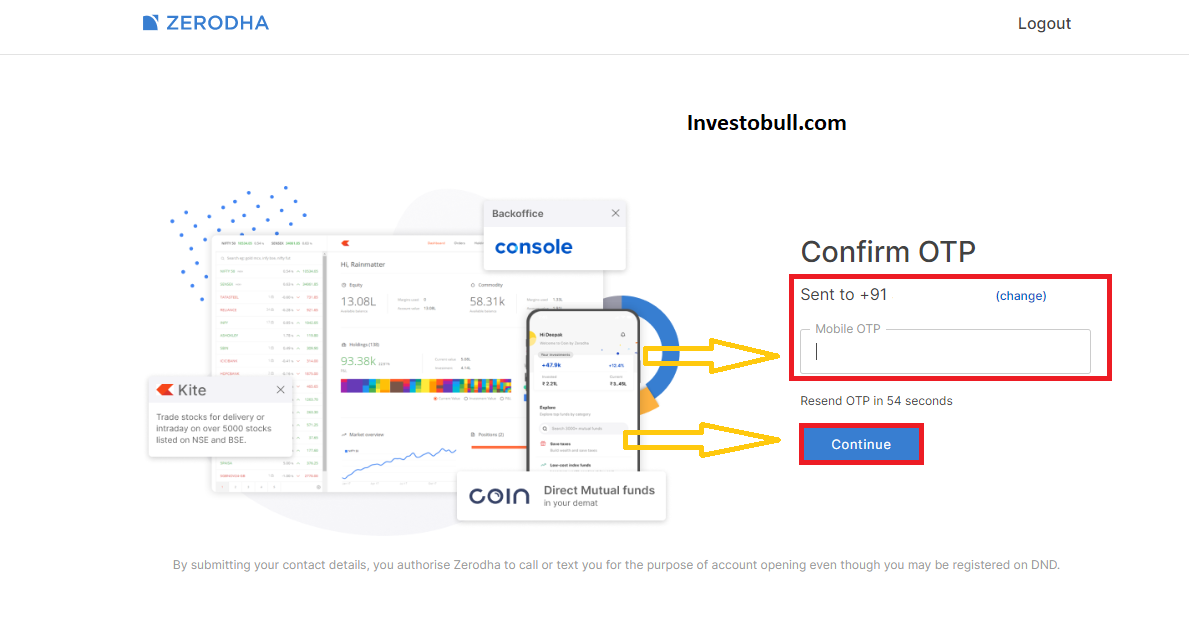 Why should you open a demat and trading account at Zerodha?
Zerodha is one of the best stock broker in India. If you are still confused about why you should open a demat and trading account at Zerodha, then here are top reasons:
Delivery Charges for trades are FREE.
The brokerage charge for Rs 20 or 0.03% whichever is lower per executed order intraday trading and for everything else
Z-Connect, interactive blog, and portal for all your queries
Over 3 million happy customers with a reputable brand name
400+ dedicated support team to ensure the fastest turnaround time for your queries via email or phone
Trading, charting, and analysis, all rolled into one next-generation desktop platform Pi.
Zerodha Account Opening Charges
Zerodha Account Opening Charges are Rs 200 for Equity and Currency segment and Rs 100 for commodity trading.
It is better to pay Rs 300 and open Equity+Commodity Zerodha Trading Account if you want to start Trading on Zerodha Platform for Commodities in future. Zerodha is one of the best trading platform India.
Zerodha Demat Account Brokerage Charges
For Zerodha Brokerage Charges are as follows
All equity delivery investments (NSE, BSE), are absolutely free.
Flat Rs 20 or 0.01% (whichever is lower) per executed order on intraday trades across equity, currency, and commodity trades.
All direct mutual fund investments are absolutely free.
Documents required to open a demat and trading account at Zerodha.
Here are the documents required to open a demat and trading account at Zerodha. I will recommend keeping soft copies of all these documents ready before you apply for opening the accounts as you've to upload them during the account opening process:
PAN CARD
Aadhar Card
Cancelled cheque/ Bank statement
Your Signature on a piece of paper
Passport size photos
You need to keep a scanned copy of bank account statements as it should be attached to your Zerodha Demat Account application. For Futures & Options, commodity, you need to provide income proof which can be either of the below documents –
6 months bank statement
Signed salary slip
Income-tax returns acknowledgement(ITR)
Form 16
Demat holding statement
Using the online method, you can open your account with Zerodha within 10 minutes, if you have all the required documents.
To complete the eSign process, you will have to authenticate it with an OTP. So, make sure that your number is linked to your Aadhaar card.
How to open a demat and trading account at Zerodha? Step by Step guide
Here is the step by step process to Open Zerodha Demat Account online
Step 1: To open a Zerodha Demat and trading account you need to Click on the Zerodha Sign Up and register your Mobile Number and click on continue.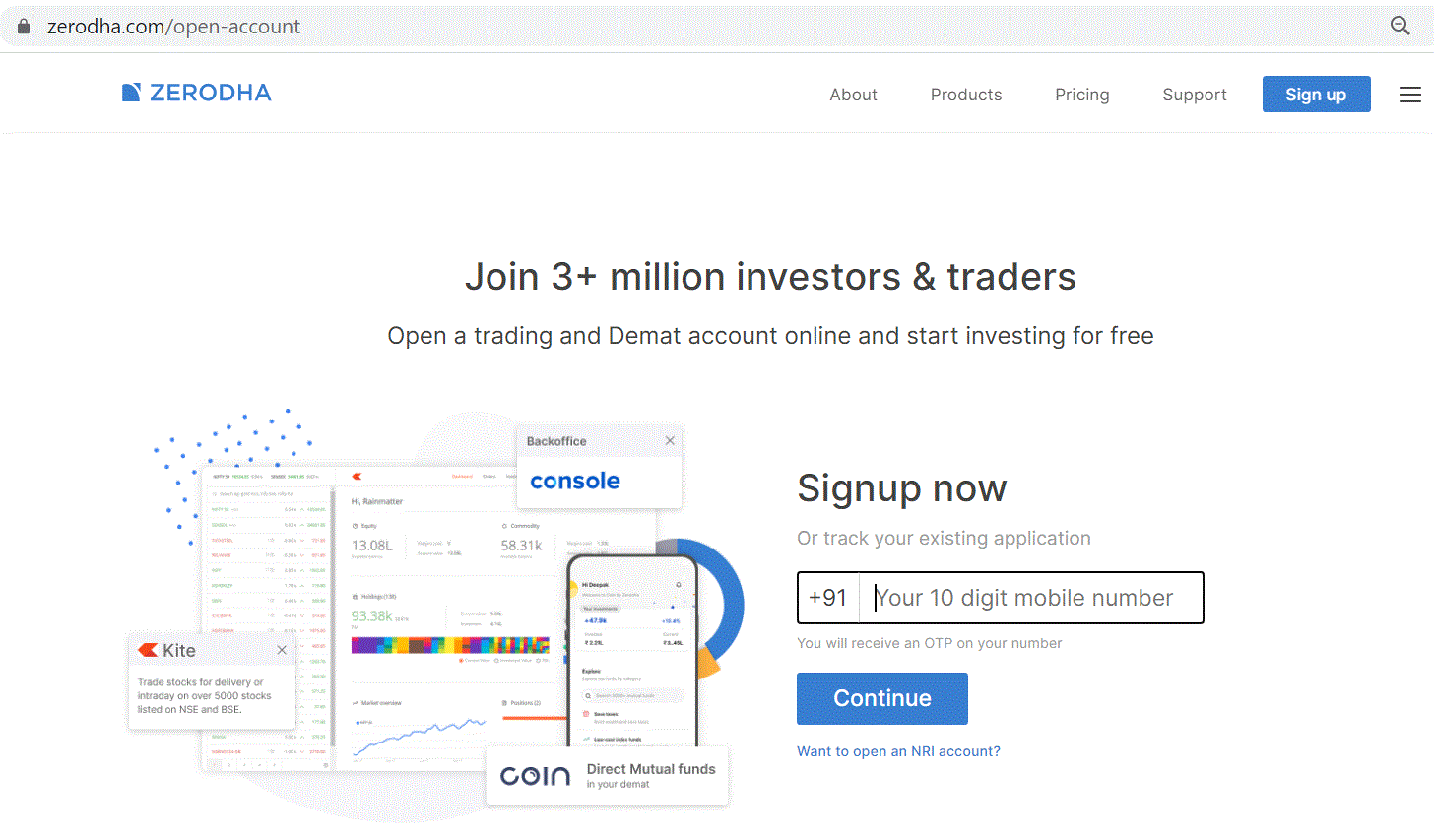 You need to submit the OTP received on your registered mobile number to sign up.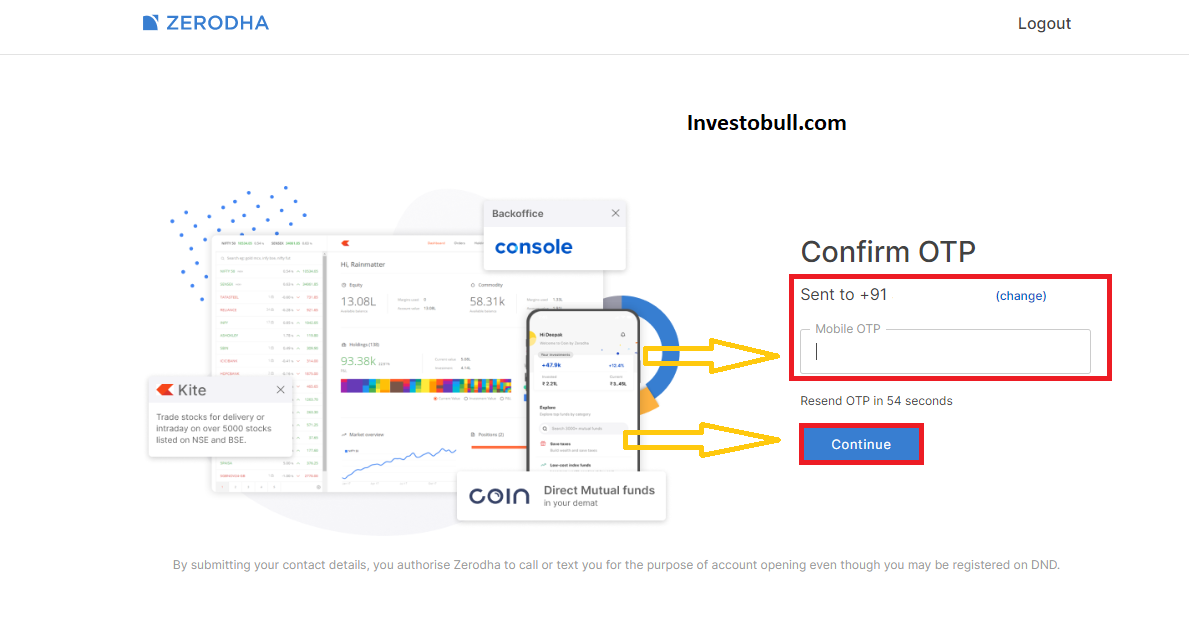 After submitting OTP, you need to enter your full name and email id. By clicking continue, you will get an OTP on your email id.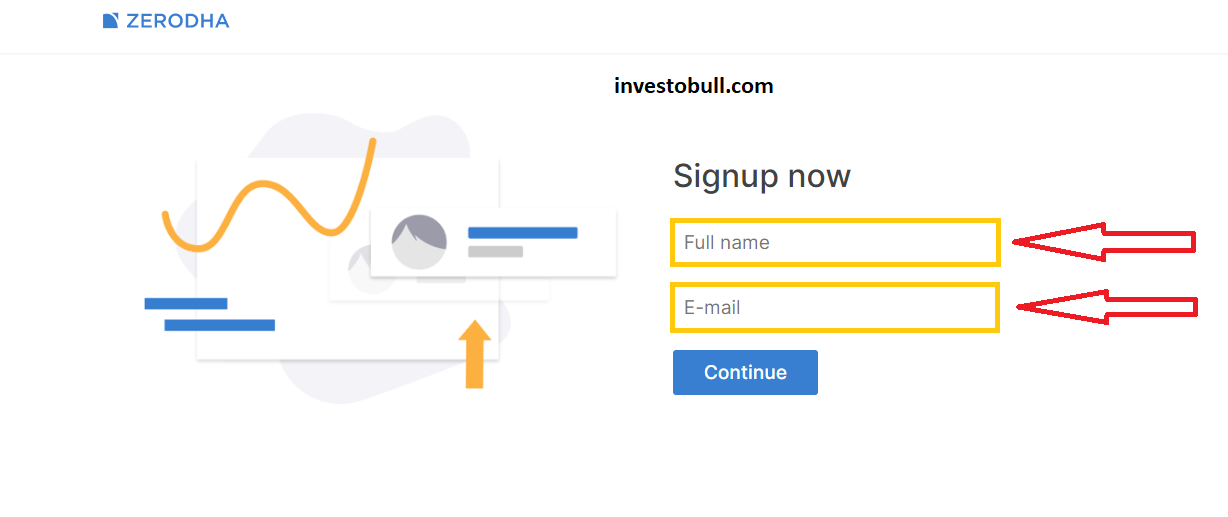 Enter the OTP you receive on your registered email ID as shown below and click on continue for Zerodha login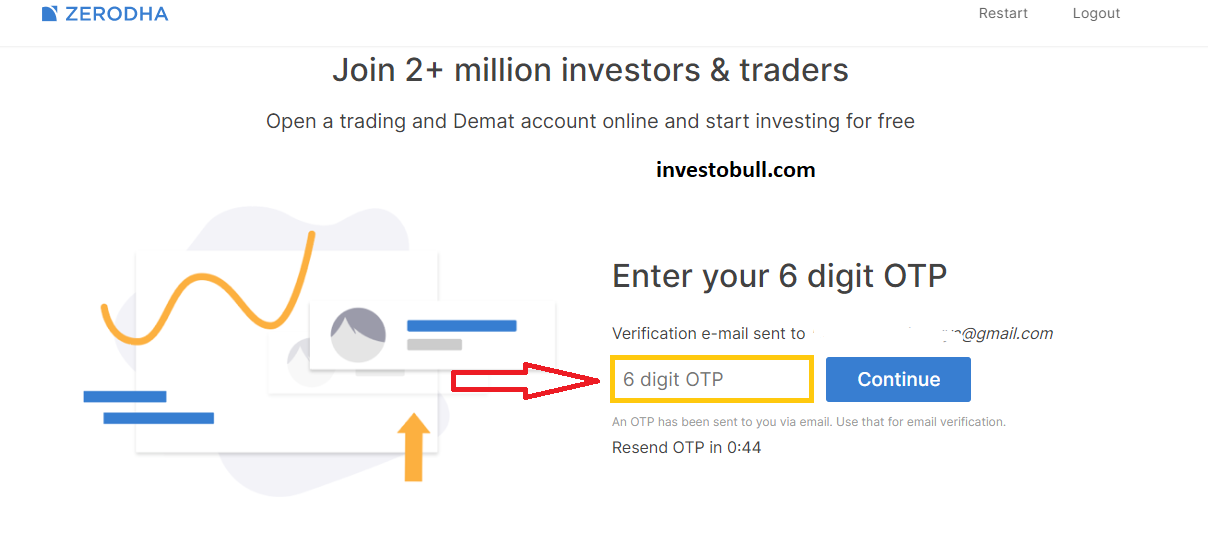 Step 2: You need to enter your PAN card number and Date of birth details as shown in your pan card and click on continue.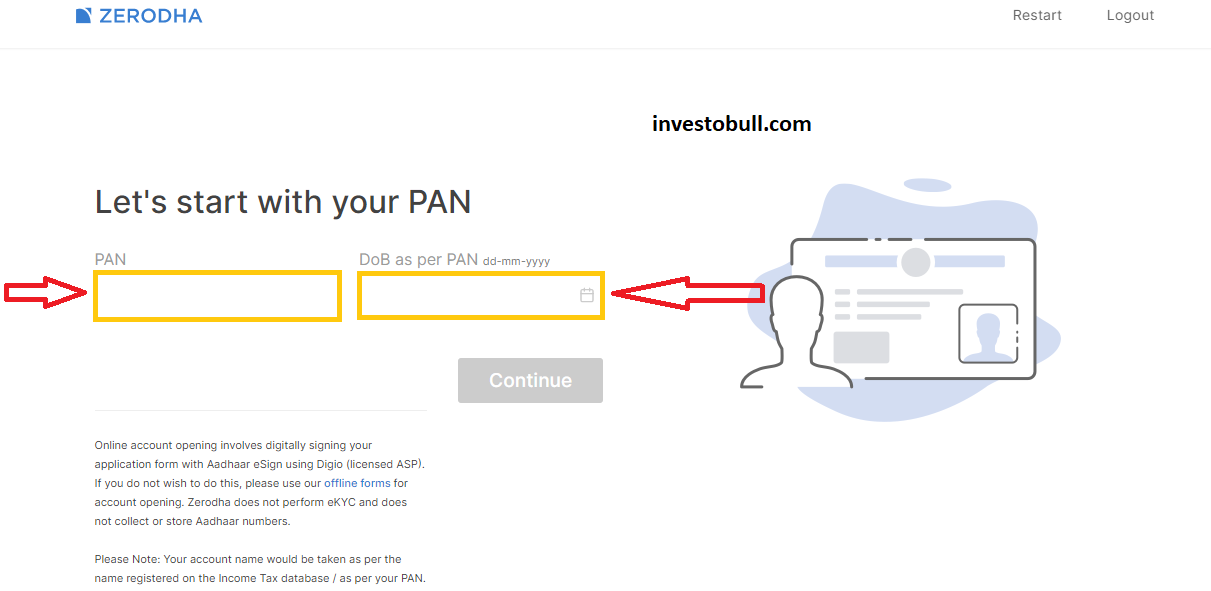 Step 3: You need to pay the Zerodha Account opening charge which is Rs. 200 for Equity and Rs. 100 for commodities. You can make payment through debit or credit card, net banking or UPI and click on continue to make payment.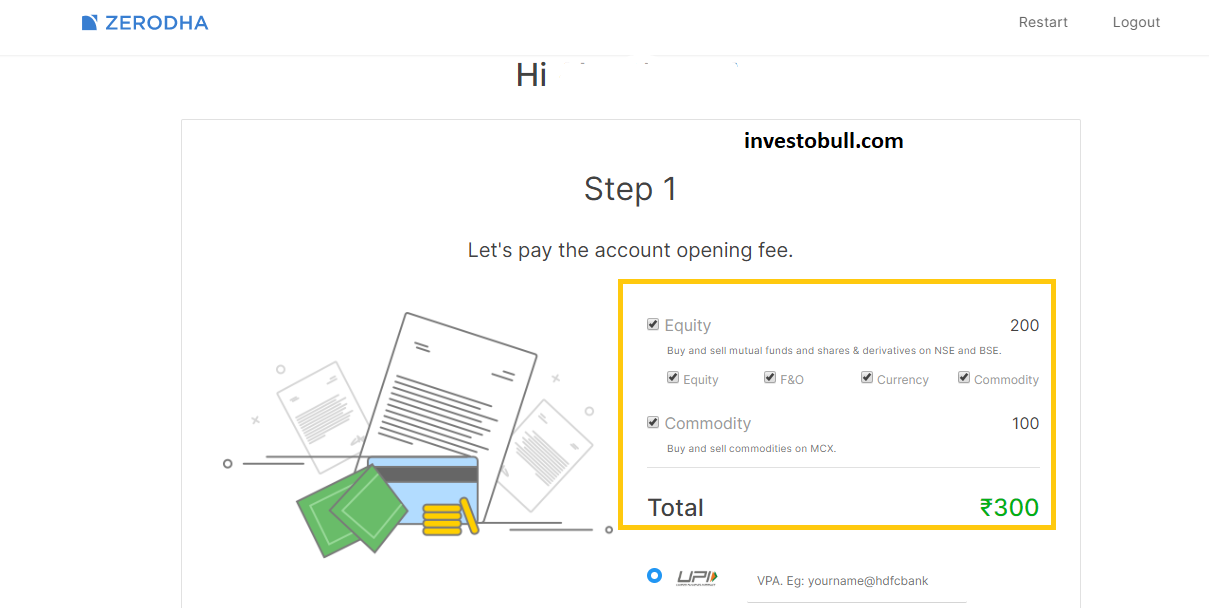 Step 4: In this step, you need to Create and share Digi-locker with Zerodha
If your Aadhar is not KRA verified, you need to fill our aadhar details through Digi locker.
If you don't have a Digi locker account, you can create it by clicking here.
You need to share our Digi locker with Zerodha by signing in to our account which you have created in the previous step. Then click on "SHARE WITH ZERODHA".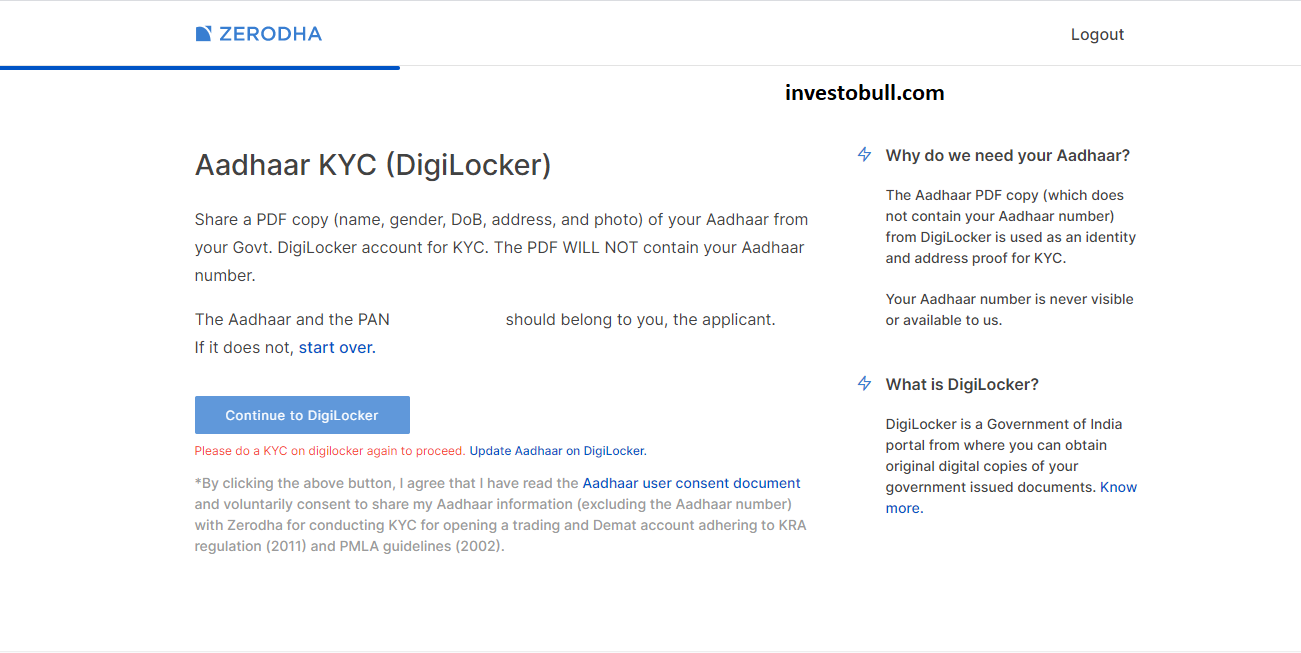 Step 5: In this step, you need to fill out the background information like marital status, mother's name, trading experience, annual income, occupation, etc.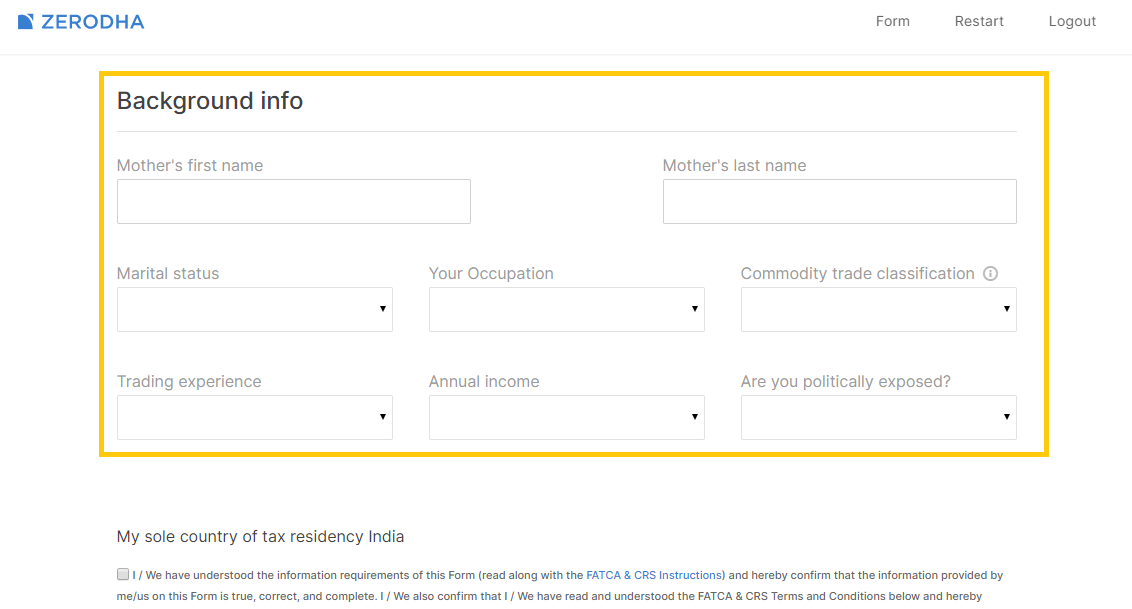 Step 6: Fill your bank details like IFSC code, Bank account number, Confirm account number and select all the terms & conditions and click on continue to proceed for the next step.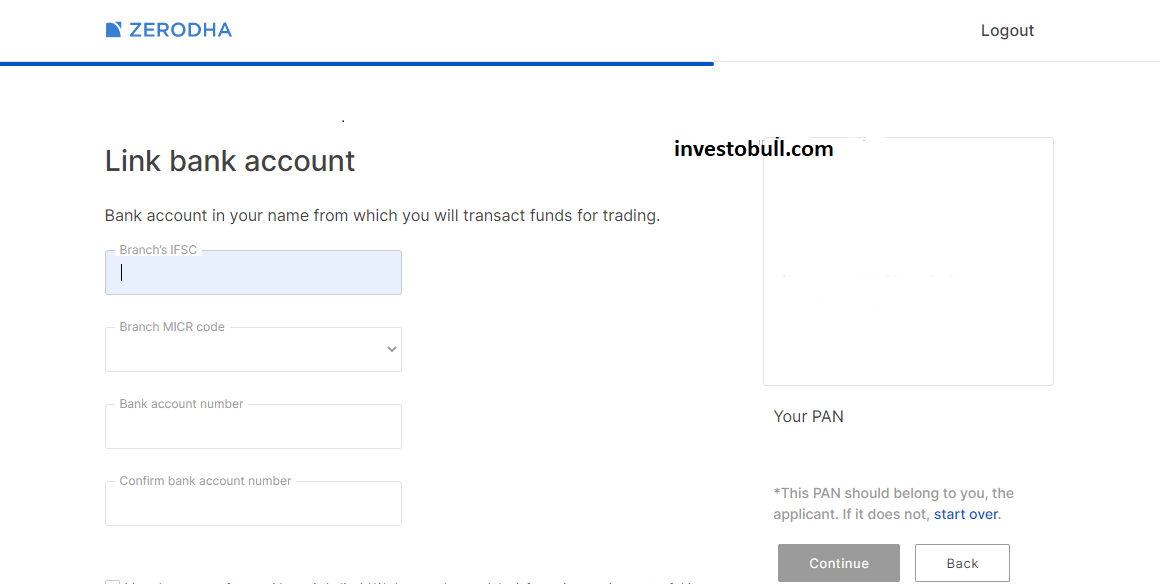 Step 7: In-person-verification(IPV) is a process where a depository participant in personal verifies the documents and other details as per the law by SEBI. It is compulsory to go through the IPV process before opening Zerodha Account.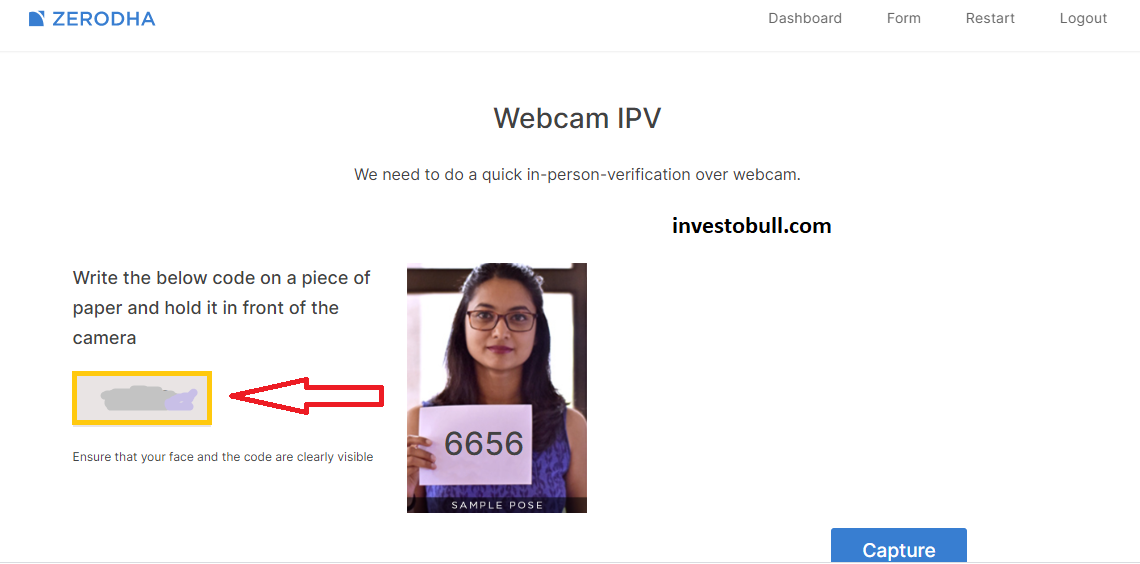 To complete in-person verification over webcam you need to write the OTP which is shown on the screen on a white paper and hold it so that the camera can capture clearly.
Step 9: You need to upload the documents which are Bank proof, Income proof, Signature as per pan card (signature should be done with blue/black pen on a white paper), PAN copy ( PAN copy will not be accepted in pdf.)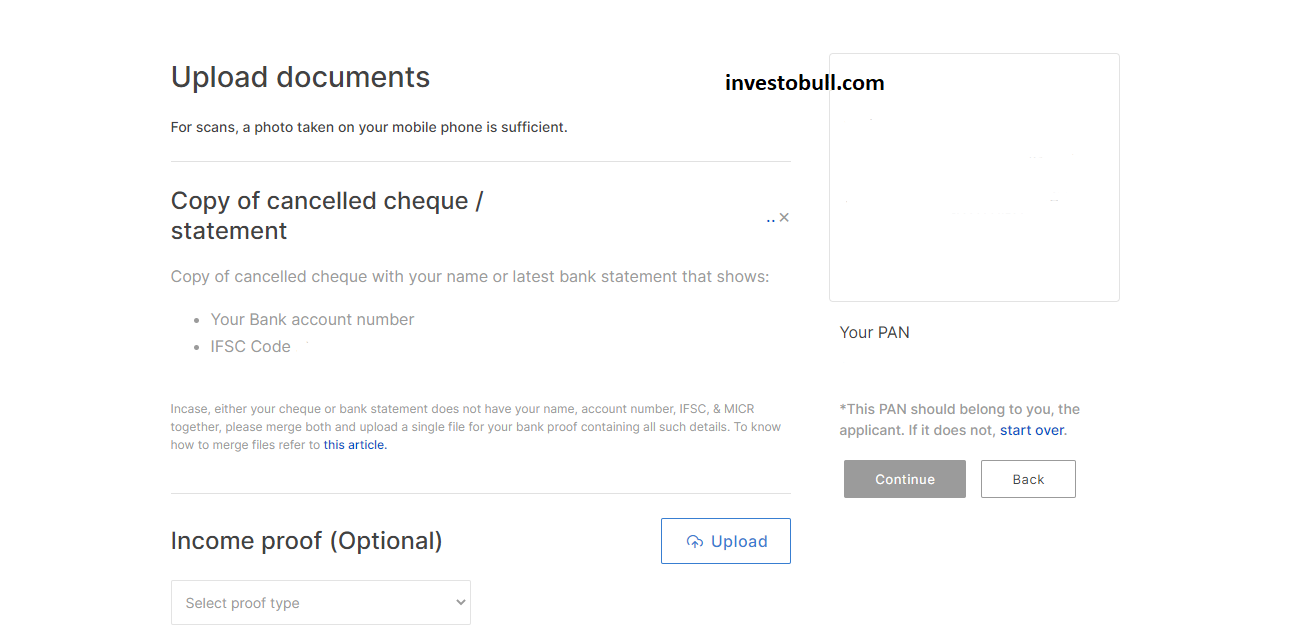 Step 10: To complete your e-sign verification, you need to click on "Esign Equity" option and you have to enter a security code that is sent to your email id.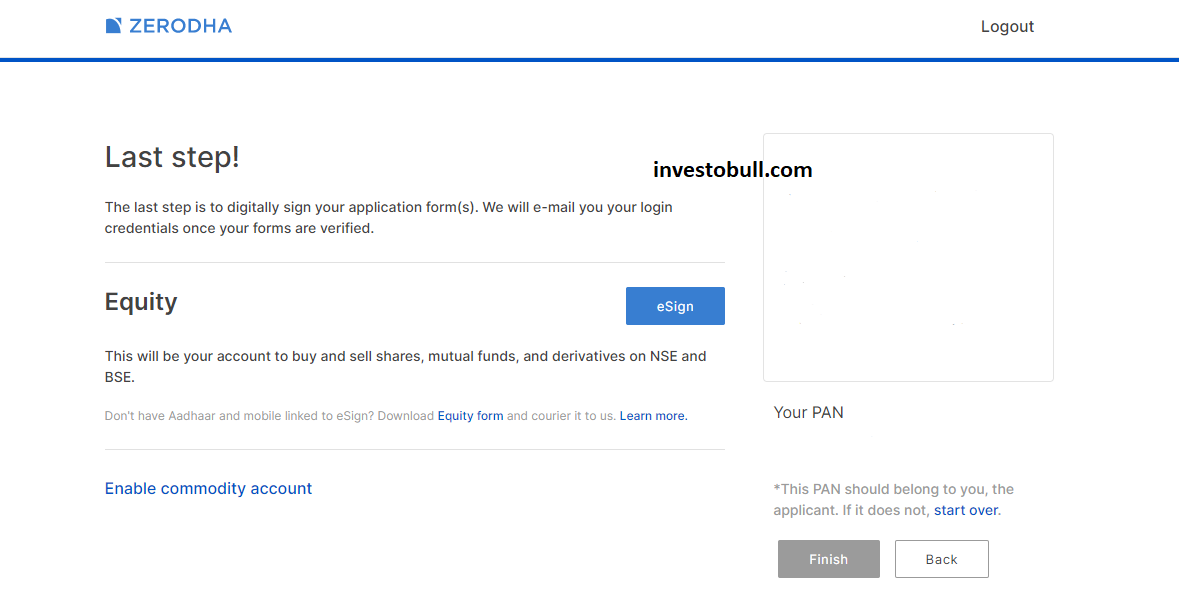 You have to enter aadhar number and click on request OTP in the E-sign page (NSD page) and enter the OTP sent on the mobile number linked with aadhar.
Step 11: You are yet to e-sign your application form for trading in commodities, you have to upload income proof and click on continue to e-sign your commodity trading application form.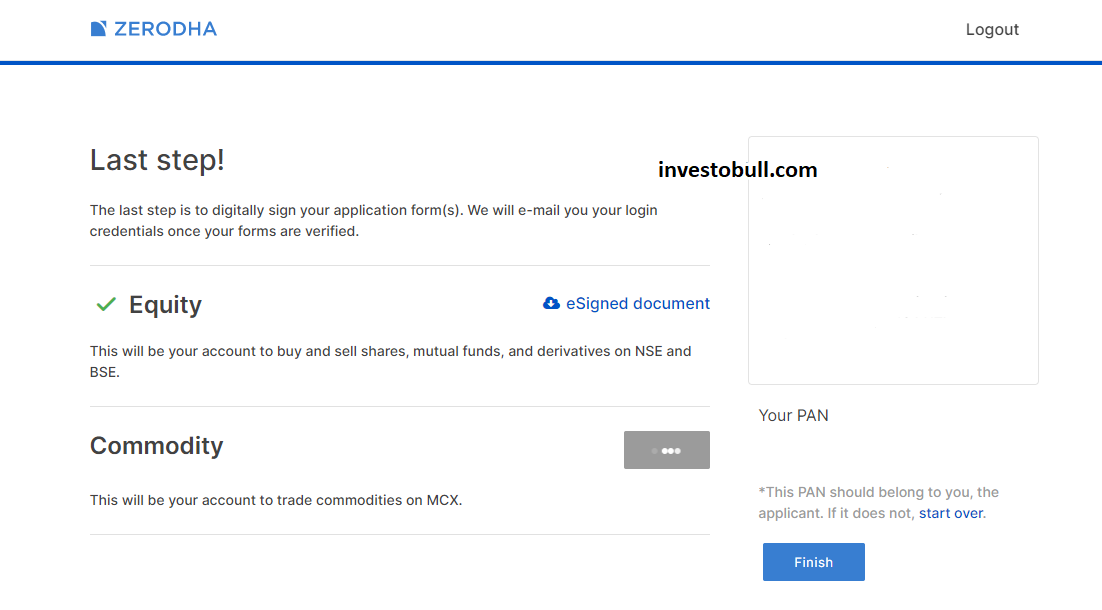 You have to enter aadhar number and click on request OTP in the E-sign page and enter the OTP sent on the mobile number linked with aadhar.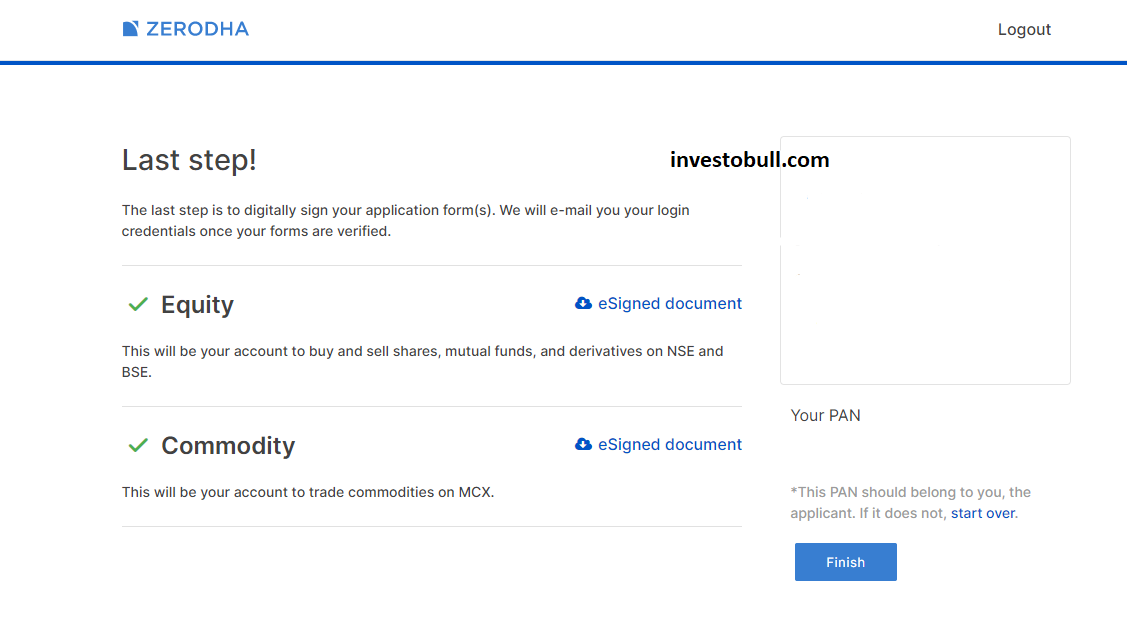 After completing both Equity & Commodity e-sign, you need to click on "Finish" to end your online Zerodha Account Opening Process. Zerodha online process is very easy when compared to offline process.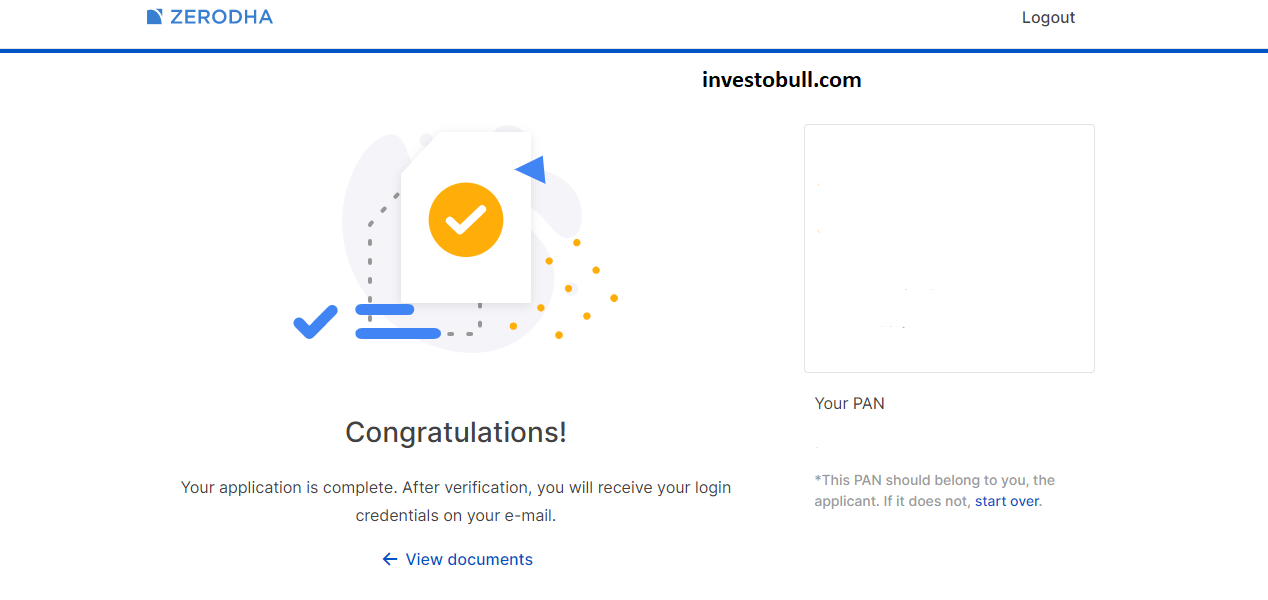 Offline Process for Zerodha Account Opening
If your mobile is not linked to an Aadhar card, you can Open Zerodha Demat Account offline.
Here are the offline forms that you'll need to fill and courier for Zerodha Account Opening:
The documents required for the offline process to Open Zerodha Account are the same as that of the online process. You need to get a photocopy of your PAN Card, Aadhar Card, Cancelled Cheque/Bank statement/Bank Passbook, Income proof & Passport size photographs. You also have to cross sign as self-attest on all these docs.
Recommended Brokers
No 1 STOCKBROKER IN INDIA
Zerodha
Free equity & mutual fund investments | Flat ₹20 intraday and F&O trades
Rating
★★★★★
APPLY NOW
GET FREE DEMAT ACCOUNT
Upstox
Fix brokerage of Rs. 20 per trade
Rating
★★★★
APPLY NOW
GET FREE DEMAT ACCOUNT
Angel Broking
0 Brokerage on Equity Delivery | Rs 20 per order for Intraday‎ and F&O trades
Rating
★★★★★
APPLY NOW