UPSTOX is one of the most authentic discount brokers in India with over 2 Million + clients in India. Upstox provides one of the lowest brokerage charges and best trading platforms among all discount brokers India.
If you are looking forward to opening Upstox Demat Account and trading account with a reliable stockbroker that charges low brokerage and has a very good trading platform, you can use this direct link to open Upstox Demat Account online by using upstox account opening documents like aadhaar and mobile OTP in 10 minutes. The Upstox is a member of Bombay Stock Exchange, National Stock Exchange, and Multi Commodity. Upstox is also registered with SEBI, NSDL, and CDSL.
NSDL full form – National Securities Depositories Ltd
CDSL full form – Central Depository Services Limited
SEBI full form – Security and Exchange Board of India
You can open a fully paperless upstox account online if your aadhar card is linked with a mobile number. You don't require to courier Power Of Attorney(POA) forms unless you trade above 20 lakhs rupees. Upstox is one of the best discount broker in India after Zerodha.
Why is Upstox Account India's one of the Top Stock Brokers in India?
Here are the key reasons to open a Upstox Demat Account.
The Upstox Account Opening is very less compared to all other brokers.
Brokerage charges for delivery trades are Free.
Upstox provides a 3 in 1 account which is a Demat Account, Trading account, and IndusInd bank account.
The brokerage charged will be Rs 20 or 0.05% whichever is lower per executed order for intraday trading in a basic plan.
There is no turnover assurance or upfront fee.
Upstox provides Dartstocks – One next-generation desktop platform for Charting, and Analysis.
You will get access to the Free Moneycontrol Pro yearly subscription worth Rs 1999, Free Beginner's course on the stock market at Elearnmarkets worth Rs 999, Free StockEdge Premium quarterly membership worth Rs 999.
One can use the Upstox coupon code to get more benefits.
Upstox Account Opening Charges
Upstox Account Opening charges for Demat and Trading account is Rs 300. Upstox has a least Annual maintenance charge of Rs 150 towards account maintenance. As a promotion, Upstox does not charge any fees for Upstox Account Opening.
Upstox Demat Account Brokerage Charges
Upstox Charges zero brokerage fee for equity delivery trading. For equity intraday and other all trades, Upstox brokerage charges are Rs. 20 or 0.05% per order (whichever is lower) for both buy and sell orders.
Upstox offers and promos
Upstox keeps on bringing multiple offers from time to time to enable people to open demat account online and start investing in stock markets . Current upstox demat account offers are below
Get Zero Brokerage for first 30 Days (unlimited, no limit)
Get FREE Elearnmarkets stock market beginners course worth Rs. 999
Get FREE StockEdge 3 months Premium Membership worth Rs. 999
Also get free yearly MoneyControl Pro subscription plan worth Rs 1999
How To Claim offer?
Click here to avail this deal by registering with upstox
How to open Upstox Demat Account?
Upstox is one of the best demat account India. It is very easy to open upstox demat account. One can easily Open Upstox Account by simply following two ways
Upstox Account Opening – Online Process
Upstox Account Opening – Offline Process
Upstox Demat Account Opening Process – Online
To open the Upstox Demat and trading account, we need to upload a few documents online. I suggest you keep soft copies of all these documents ready.
The documents required for Upstox Account Opening are
Pan card
Aadhar card linked with mobile number
Signature on a white paper with blue/ black ink
Personalized cancelled cheque or 6 months Bank statement.
It is recommended to keep a scanned copy of bank account statements which we want to attach to our Demat account. For futures & options, commodity, we need to provide income proof which is
6 months bank statements
Signed salary slip
Income-tax returns acknowledgement(ITR)
Form 16
Demat holding statement
Step by Step procedure to Open Upstox Demat Account Online
The Upstox Account Opening can be done within 10 minutes by following the simple steps shown below.
Step 1: To Open Upstox Account, you need to click on the signup link and enter your Email Id & Mobile Number then click on SEND OTP. You need to submit the OTP received on your registered mobile number to sign up.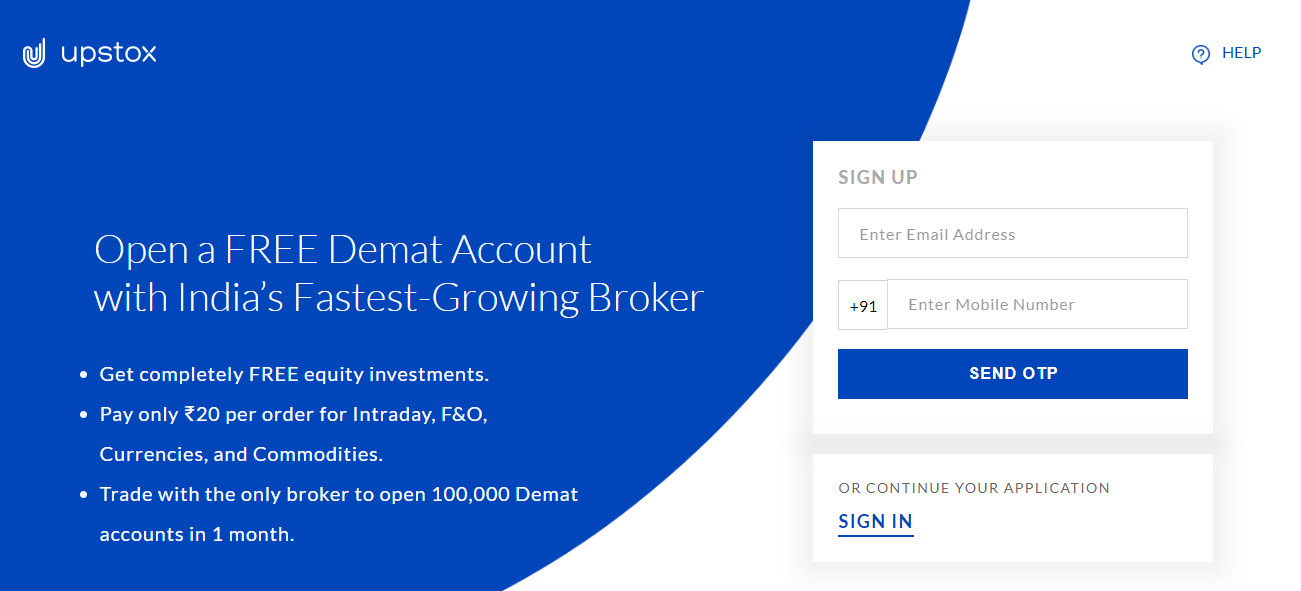 If you have already registered, you can click on the sign-in option to enter your mobile number and continue uploading documents.
Step 2: In this step, You need to enter PAN Card Number & Date Of Birth here and click on next to save and move for further step
Step 3: Here, you need to fill required KYC details with Upstox such as Your mother's name, Gender, Political affiliation, Marital Status & Trading Experience.
Step 4: Select the segments and brokerage plan you are interested in. You can also apply the Upstox coupon code and deals if any available and click on next to go for further steps.
Step 5: In this step, Your bank account details should be entered like IFSC Code, Bank Account Number, and select Account Type ( Savings or Current)
Upstox will do a small transfer to verify the bank account.
Step 6: You must make a signature on a white paper with blue or black ink as per PAN card and upload it here. Uploading Income proof is mandatory if you wish to trade-in commodities.
Step 7: In this step, you need to connect your Digilocker with Upstox.
Note: Your aadhar should be linked to your mobile number.
Step 8: Fill your address as per the provided address proof and also upload a soft copy or photo of it. By click on next, you can go for the further step
Step 9: Upload a scanned copy of your PAN card and Click next to move to next step
Step 10: In this step to Open Upstox Demat Account, you need to upload or click a photo of yours and share the current location.
Step 11: A security code will be sent to your registered email address, you need to enter the code and click on next.
Step 12: If your PAN card is not KRA verified, you need to do an IPV (in-person verification) by holding a PAN card and aadhar and record a video to complete Upstox Account Opening Process.
Step 13: Here you get two options to complete your account opening process. You can click on "E-sign with aadhar OTP" and if your aadhar id is not linked with a mobile number, you can go with offline forms.
The Digi-locker page will pop-up for E-Signing when you opt for Online Esign. You need to enter the OTP which is received on your mobile number.
You have to enter your aadhar card number and enter the OTP received on aadhar registered mobile number and E-Sign your Upstox account opening form through Aadhar
Also Read : How to Open Zerodha Demat Account

step by step process
Offline Process for Upstox Account Opening
If your mobile is not linked to an Aadhar card, you can Open Upstox Demat Account offline. You need to register in Upstox first by clicking here and completing the account opening process by uploading documents till step 10 shown above. You need to click on "send me the courier" to get pre-filled forms.
The pre-filled forms will be couriered to your address. You have to make signatures and affix a passport size photo on it. Upstox will schedule a pickup of the signed forms 2 days after delivery.
Here you can find the blank forms that need to fill and courier for Upstox Account Opening. The documents required for the offline process to Open Upstox Account are the same as that of the online process.
You need to get a photocopy of your PAN Card, Aadhar Card, Cancelled Cheque/Bank statement/Bank Passbook, Income proof & Passport size photographs.
Recommended Brokers
No 1 STOCKBROKER IN INDIA
Zerodha
Free equity & mutual fund investments | Flat ₹20 intraday and F&O trades
Rating
★★★★★
APPLY NOW
GET FREE DEMAT ACCOUNT
Upstox
Fix brokerage of Rs. 20 per trade
Rating
★★★★
APPLY NOW
GET FREE DEMAT ACCOUNT
Angel Broking
0 Brokerage on Equity Delivery | Rs 20 per order for Intraday‎ and F&O trades
Rating
★★★★★
APPLY NOW