Swing trading , also referred as positional trading ,remains undoubtedly one of the best styles of trading if done right . Swing trading refers to a form of trading where you buy and hold stocks for a short period of time . Its less risky compared to day trading , you can use technical as well as fundamental data to trade stocks for short term, and most importantly , you don't need to be present at trading screen all day for swing trades. Most people who have a full time job and also want to trade stocks, usually prefer Swing Trading.
However selecting stocks for Swing trading can be a tough job. In this article , lets discuss on one of the methods that you can use to short list stocks for Swing trading .
What is Relative Outperformance
When we compare performance or return of any stock , we compare it with the benchmark index and then judge the performance. For example, if we want to measure how Tesla has performed , we compare it against returns of NASDAQ and see it it has given more returns than NASDAQ. Stocks which have given more returns compared to underlying benchmark index are said to "Outperform the benchmark" and those who gives less returns compared to underlying index are said to "Underperform the benchmark index"
Relative Outperformance Vs Relative Strength
At the first glance, Relative outperformance may seem like relative strength , however they are both different concepts and should not be confused. While relative outperformance just tell how much percent a stock has given more returns than underlying index in absolute percent, relative strength overall is a ratio that determines the degree of strength of a stocks compared to other stock.
Selecting stocks based on Relative Outperformance
If an stock or index is constantly outperforming the Index in past 2-3 months, its highly likely if will continue to outperform and such stocks will be buying candidates on correction. For example lets say TATASTEEL has been outperforming Nifty for 3 months , It may make a small swing correction and then continue the uptrend journey. So if we look for stocks which are out performing index for 5-6 months and then start to outperform in last 5-7 trading sessions, then most possibly have resumed an uptrend again.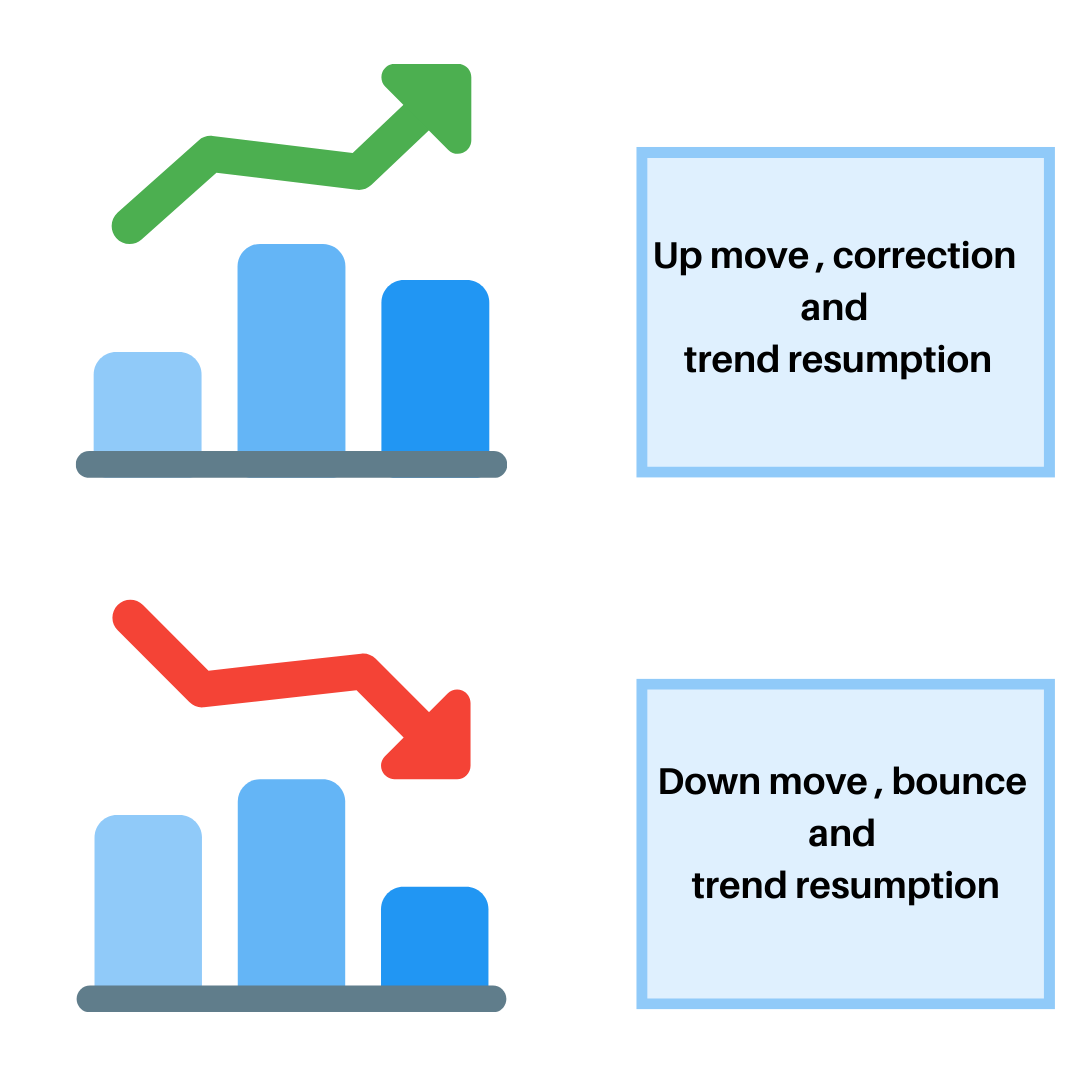 Similarly if a stock has been underperforming then index for 3 months , and it rises up again , there may be an opportunity to short the stock on bounce back. So if we track stocks that have been underperforming the index for 3 months and also underperforming in last 5-7 trading sessions, probably those are stocks which have started downtrend after bounce back.

Relative Out performance Screener
Intradayscreener.com has an inbuilt Relative outperformance and Underperformance scanner which helps you select such stocks on a click . Currently it works with Indian stocks but plans to launch S&P500 stocks as well soon. You can click here to access the screener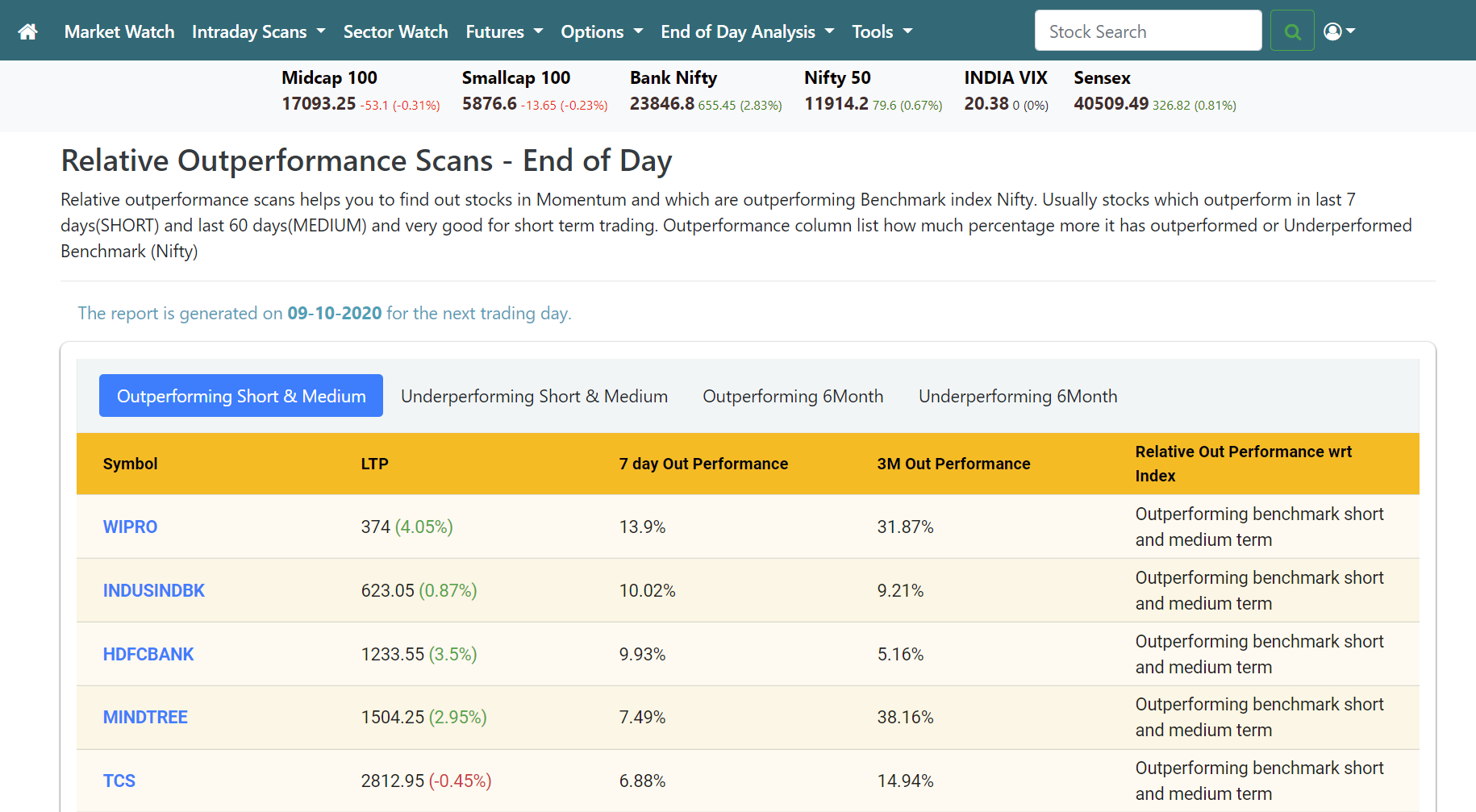 Recommended Brokers
No 1 STOCKBROKER IN INDIA
Zerodha
Free equity & mutual fund investments | Flat ₹20 intraday and F&O trades
Rating
★★★★★
APPLY NOW
GET FREE DEMAT ACCOUNT
Upstox
Fix brokerage of Rs. 20 per trade
Rating
★★★★
APPLY NOW
GET FREE DEMAT ACCOUNT
Angel Broking
0 Brokerage on Equity Delivery | Rs 20 per order for Intraday‎ and F&O trades
Rating
★★★★★
APPLY NOW