The full form of SGX Nifty is a Singapore stock exchange Nifty. It is a derivative of Nifty indices traded legally in Singapore stock exchange. Nifty is an index of the National stock exchange, and it consists of the top 50 indian companies registered on NSE. SGX Nifty is the popular derivative product traded on the Singapore stock exchange.
SGX Nifty is available to be traded as futures contracts. Contract value is traded as ( 2$ * price of Nifty ) . SGX futures is a highly liquid contract which is mostly traded by Foreign institutional Investors etc.
Who is allowed to trade in SGX Nifty?
Foreign Investors who are unable to do Nifty Trading in the Indian stock market can start trading Nifty using sgxnifty. It is the best way to trade Nifty for Foreign institutional investors ,Foreign portfolio investors, Non resident Indians etc
SGX Nifty can be traded by anyone who has a broker in the Singapore share market or a trading account in Singapore. FII (Foreign Institutional Investors) can also do trading in the SGX Nifty.
Indians are not allowed to trade at sgxnifty. But if any company is interested to start their trading works in India, then you can trade.

Difference between Nifty and SGX Nifty?
sgx nifty futures is the derivative contract which is traded on the Singapore stock exchange. Nifty futures are derivatives contracts which are traded on NSE in India.
The lot size in SGX Nifty is different from Nifty. One SGX Nifty contract value is equal to ( 2$ * value Nifty) . Many of the investors are interested in using the sgxnifty rather than the NSE Nifty futures.
Example: If the Nifty is trading in 12000 then the contract size of sgxnifty is 24000 $
In India, the Nifty lot size is 75 shares so when Nifty moves by 200 points per share the 200*75=15000, But in case of SGX Nifty 200*2=400$
Here are the few reasons why SGX nifty is more popular among foriegn investors
SGX Nifty is more cost-effective for foreign investors and traders
SGX Nifty is denominated in dollars($). This is very helpful for FII, and they no need to think about currency.
Many foreign investors who are interested in trading in India will trade in Singapore stock exchange because of their time zones matches.
Trading Hours of SGX Nifty
In Singapore, Nifty Futures are traded in 2 sessions which are T and T+1 . T session is morning session and T+1 is evening session. T session starts from 9AM singapore time (6.30AM IST) and goes on till 6.10PM singapore time(3.40PM IST) . T+1 Session starts from 7.15PM Singapore time (4.45PM IST) till 2AM next day Singapore time(11.30PM IST) . There is a break in between the two sessions. T session is considered for current day's settlement and T+1 session(evening session ) will be settled next day.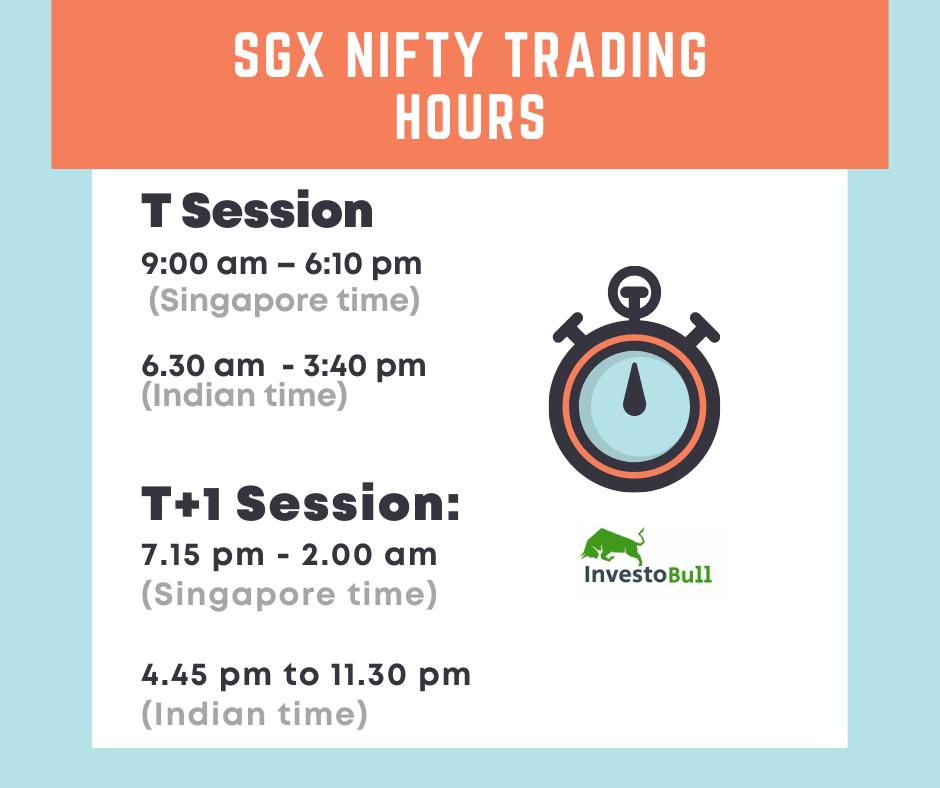 Trading hours (Singapore time):
T session: 9:00 a.m. – 6:10 p.m.
T+1 session: 7:15 p.m. – 2:00 a.m. (following day).
Trading hours (Indian time):
T session: 6:30 a.m. – 3:40 p.m.
T+1 session: 4:45 p.m. – 11.30 p.m.
In India, Nifty futures trades for 6 hr 15 min on the National Stock Exchange from Morning 9.15 AM to 3.30PM
As its trading timing is more, and at the same time, the SGX Nifty opens before NSE opens in India. Investors can take decisions according to the market movement.
Example: If SGX Nifty is 100 points up at the closing time and on the next day the Nifty futures will open in green and gap up 100 points in the Indian market. Accordingly if sgxnifty is 100 points down at the closing time then the sgx nifty futures on next day will open in the red. Click on sgx nifty futures live to know the complete details of
Singapore nifty live trades can be done in two portions.
T denotes morning 1st half
T+1 denotes the 2nd half
Trades occurring in morning hours are settled on the same day and trades occurring on the 2nd half are settled as next day.
Sgxnifty live starts 2 hr 30 mins before Indian nifty. Hence FII/FII traders can take the positions in Singapore stock exchange before the Indian market opens. Investors can trade in SGX Nifty even after the Indian market closes.
SGX NIFTY LIVE prices
We can visit SGX nifty prices on the Singapore stock exchange website. However the prices are delayed by 15 minutes. For real time prices, we can use Moneycontrol website
How SGX Nifty Impacts Indian Equity Market
SGX Nifty direction is the primary indication of the Indian Stock Exchange. SGX Nifty direction is helpful for NSE India traders and investors to make decisions.
Multiple factors influence its volatility such as
The time zone is one of the factors because NSE opens 2hr 30 mins after SGX Nifty opens.
The Influence of SGX Nifty can be seen through the market trend. The market direction may change according to world news, and its impact on all stock exchanges. This further will immediately impact the SGX Nifty price opening on the next day.
Many stock market analysts use SGX Nifty as one of the essential factors to estimate the market movement. The market can be open in the gap up or gap down based on SGX Nifty.

Key Feature About SGX Nifty:
SGX Nifty is the Indian Nifty that is traded in the Singapore stock exchange.
It indicates the starting direction of the Indian stock exchange.
SGX Nifty Opens at 6:30 AM and trades till 11:30 PM as per the Indian time zone.
SGX Nifty acts as a predictive factor for the NSE market.
SGX nifty allows FIIs to invest in NIFTY Futures.
FAQs
What is the relation between the Nifty SGX Index with Nifty Index?
SGX NIFTY is a derivative of the NIFTY index traded regularly in Singapore stock exchange. SGX Nifty means Singapore stock exchange Nifty. One SGX Nifty contract is two times the size of the Nifty contract. Many FIIs use SGX Nifty instead of NSE Nifty futures. SGX Nifty is traded for 16 hours, whereas Nifty is traded for 6 1/2 hours on NSE.
How to calculate the points difference in SGX Nifty Index and Nifty Index?
The most suitable time to view the SGX Nifty and nifty is around 8:30 to 8:50 am just before the share market opens. SGX nifty shows the Nifty future live  price.
To calculate the gap up or gap down, you need to compare the last day closing price of nifty futures with the SGX Nifty share price. The final value will be positive or negative according to that the next day's market opens. 
SGX Nifty Point is calculated as SGX Nifty – Nifty Futures
How many stocks are there in SGX?
There are 640 mainboard listings and 215 catalysts listed in the Singapore stock exchange. Only well-performing companies are listed in the Singapore stock exchange.
The companies with less than 40 million dollars capitalization from the last 120 days are stored on a watch list. If the company does not develop its capitalization within two years, those companies are delisted for the exchange.
Recommended Brokers
No 1 STOCKBROKER IN INDIA
Zerodha
Free equity & mutual fund investments | Flat ₹20 intraday and F&O trades
Rating
★★★★★
APPLY NOW
GET FREE DEMAT ACCOUNT
Upstox
Fix brokerage of Rs. 20 per trade
Rating
★★★★
APPLY NOW
GET FREE DEMAT ACCOUNT
Angel Broking
0 Brokerage on Equity Delivery | Rs 20 per order for Intraday‎ and F&O trades
Rating
★★★★★
APPLY NOW